State owned telecom giant Bharat Sanchar Nigam Limited (BSNL) has introduced

Data Sharing STVs

in South Zone and will soon implement it on PAN India basis for all prepaid mobile subscribers.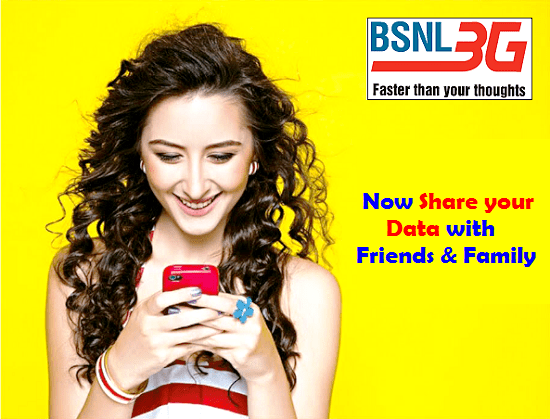 This STV allows sharing of data among a group of prepaid mobile subscribers. A prepaid BSNL customer can subscribe this data pack and share it with other four prepaid subscribers.
This facility will be useful for sharing data among family members, friends, colleagues etc. This is also likely to attract the youth segment.
The procedure to subscribing of community data pack and adding of accounts – up to four numbers can be done through the BSNL Web Selfcare Portal – www.bsnlszprepaid.com. No charges will be levied for availing this facility.
Shri R.K.Mittal, Director (CM) BSNL Board told that BSNL is providing community data sharing STVs for all the segment of society as per their requirement. Connectivity through this data sharing empowers family and friend numbers to be in touch. The more information in this regard may be seen in our website : www.bsnl.co.in
11 Data sharing STVs under this scheme are available in the market as per different requirement of the society. The denomination starting from Rs 173/- for 1.2GB for 18 days and STVs of Rs 2013/- giving 21GB 90 days of validity (Exclusive of Service Tax) are available under this plan.
See more details about BSNL Data Sharing Facility and Community Data STVs below:


Read More: BSNL to revise existing Prepaid 3G/2G Data STVs from 20th April 2016 on wards by reducing validity


Dear readers, please share your views and opinions about BSNL's Data Sharing Facility / Community Data STVs via comments with us.