State run telecom major Bharat Sanchar Nigam Limited (BSNL) has signed a
Memorandum of Understanding (MoU) with the Ministry of Urban Development (MoUD) for
vehicle tracking and monitoring system in
4041 Urban Local Bodies (ULBs) in the country as part of

Swachh Bharat Mission.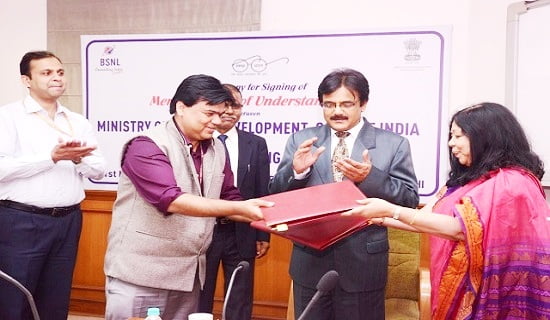 As per the latest information, BSNL will be
developing an Information and Communications Technology (ICT) Platform – eSBM –
for enabling effective reporting, monitoring and control of individual municipalities and on-ground workers through an innovative web application.
"The application and platform developed will help the center and individual ULBs to ensure effective implementation of waste management and waste collection. The MoU signed is yet another initiative by the MoUD, using technology to improve and smoothen ground-level mechanisms and operations. The Ministry will strive to ensure that all the 4041 ULBs enter into agreement with BSNL for this work," – said Shri. Praveen Prakash, Joint Secretary, Ministry of Urban Development and mission director – Swachh Bharat Mission.
The platform will allow the local bodies to monitor fleet status through a GPS-based vehicle tracking system. The platform will also provide
MIS reports for waste collection and transportation and notify ULBs about vehicle breakdown and maintenance, thereby ensuring a higher level of transparency in civic administration.
BSNL CMD Shri Anupam Srivastava said – "We are very happy to be associated with MoUD to provide such an important service to the nation. The platform would further enable individual municipalities to manage and monitor their workforce and the fleet assigned to collect waste, hence using technology to solve on-ground issues. We hope that the application of the solution would result in efficient on-ground staff handling, and prove to be a big step towards the Swachh Bharat dream."
The first phase of the roll-out will be done in 75 major cities in the country by June 2016
and the implementation of the solution and hardware devices in vehicles will be done within the next two months, depending upon the number of vehicles in a particular ULB.
Dear readers, please share your views and opinions about this latest news via comments with us.