Prime Minister Narendra Modi
and Bangladesh Prime Minister Sheikh Hasina jointly inaugurated BSNL's International Internet Gateway in Tripura
on 23rd March 2016. India will supply 100 megawatt of electricity in return for 10 Gigabits per second International Internet bandwidth from Bangladesh.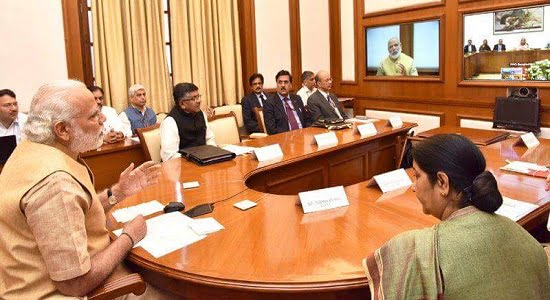 The launching was done through video conference. After Chennai and Mumbai, Tripura became India's
third international internet gateway connecting BSNL and BSCCL (Bangladesh Submarine Cable Company Limited). With the launch of new International Internet Gateway, BSNL Broadband customers may enjoy a more reliable uninterrupted broadband services.
Narendra Modi said – "In this age of interdependence, the two countries would further strengthen its ties and it is a significant day that both are promoting the ways of development. Now India and Bangladesh is connected through water, surface communication and air. We want to be connected with Bangladesh though space also."
"T

he relation between the countries has further consolidated through the supply of power and Internet bandwith,"

said

Sheikh Hasina

Bagladesh Prime Minister
BSNL has installed international router at Agartala to receive the international internet bandwidth from Bangladesh. Initially, BSNL will get 10 Gbps (Gigabits per second) bandwidth, which will be increased to 40 Gbps over time. The cost of the project is Rs. 1.91 crore with operational expenditure annually to the tune of around Rs. 7.2 crore. A 22 kilometre optical fibre cable link
was laid

from Brahmanbaria to Akhaura boarder to transport the bandwidth.
The bandwidth export deal is of high importance to improve BSNL service quality in North – Ease area (NE states). In addition to north eastern states, the other parts of the country would also be benefited by the new International Gateway at Agartala.
Dear readers, please share your views and opinions about this latest news via comments with us.