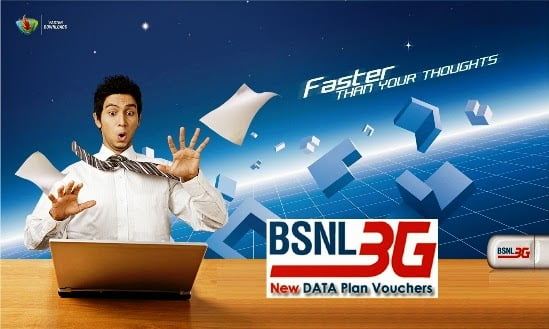 As per the latest information, BSNL has decided to remove the monthly quota / monthly usage limit of Annual Data Plan Vouchers. It means customers may enjoy One Year validity for the entire data which is bundled with Annual Data Plan Vouchers.
Revised BSNL 3G/2G Prepaid Annual Data Plan Vouchers from 16th March 2016 : All India Tariff
Annual Prepaid Data Plan Vouchers

Particulars

EXISTING DPV-3999
REVISED DPV3999
EXISTING DPV-2799
REVISED DPV2799
EXISTING DPV-1499
REVISED DPV1499
EXISTING DPV-4499
REVISED DPV4499
MRP of Data Plan Voucher *(Incl. of S.Tax)
3999
3999
2799
2799
1499
1499
4499
4499
Free Data Usages
2.5 GB per month for 12 months
30 GB (at a time) for 12 months
1.5 GB per month for 12 months
18 GB (at a time) for 12 months
0.75 GB per month for 12 months
9 GB (at a time) for 12 months
30 GB for 12 months
40 (at a time) for12 months
Main Account Validity
One Year. Further extension of validity, through same plan voucher.
Availability
Through C-Top up
Applicability
For data plans with and without sale of BSNL Data Card or any of the BSNL bundled Data Card
Base Voice Tariff plan
Prepaid Per Minute Plan
In case of Assam, J&K and North East LSAs validity of plan is subject to the guidelines/instructions issued by
Govt. of India / Regulatory Authority from time to time.
All the other terms and conditions will remain same. The above tariff will be applicable from 16-03-2016 on PAN India basis.
Read More:
BSNL launched Special Offer of 250MB Free 3G Data to all new prepaid activations up to 31st March 2016
BSNL has also decided to revise the existing Annual Data Plan Voucher 4499 which now offers 30GB
Free 3G/2G Data having one year validity
. From 16th March 2016, BSNL will be offering 40GB Free 3G/2G Data with Annual Data Plan Voucher 4499.
See the existing BSNL 3G/2G Data Offers below:
Dear readers, please share your views and opinions about this latest tariff revision by BSNL via comments with us.