State run telecom operator and the major contributor in Digital India initiative – Bharat Sanchar Nigam Limited (BSNL) has started the roll-out of

Wi-Fi Hang Out Centres

in association with M/s Quadgen Wireless Solutions Pvt Ltd. Public Wi-Fi Hot Spots will be commissioned in all major Customer Service Centres of BSNL.
Shri N.K. Gupta Director (Consumer Fixed Access), BSNL Board launched BSNL's first Wi-Fi Hangout Centre in Aluva and second one in Kottayam on 19th February 2016. Free high speed Wi-Fi internet services are available in BSNL Customer Service Centres in Aluva and Kottayam.
"Wi-Fi Hang Out centre commissioned at Ernakulam is the First Wi-Fi Hang Out centre in the entire BSNL and the second one is at Kottayam. Wi-Fi Hang Out centres will attract customers to BSNL Customer Service Centres and they will be able to know the services offered to them," – said Shri N.K. Gupta, Director (CFA) while launching the services.
Under the Public Wi-Fi project, BSNL planned to install around 200 Wi-Fi Hot Spots in 2G BTS (Mobile Towers) locations in Kerala Circle. Quadgen has already started 2G BTS site survey in Kerala.
Shri N.K. Gupta added that – Wi-Fi Hang Out Centres in BSNL CSCs (Customer Service Centres) is really a good initiative and it will be implemented
in other parts of country also.
Shri. L Anantharaman CGM, BSNL Kerala Circle said – "Wi-Fi services in BSNL Customer Service Centres will make customers more happy and satisfied while reaching CSCs."
FREE Wi-Fi services will be available for the First 15 Minutes in a month for the same mobile number. Apart from this, the customers will have to pay a fixed tariff rate for using the WiFi and it can be available through online recharge method or through physical recharge coupons.
BSNL Wi-Fi Hot Spot Speed Test Results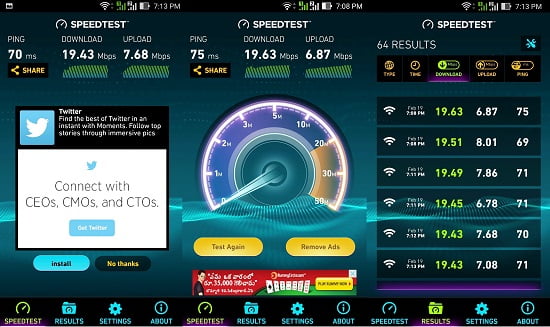 BSNL Wi-Fi facilities can be availed by both pre-paid and post paid customers. Also, other telco customers can avail the Wi-Fi services. BSNL also offers bulk user Wi-Fi hot spot plans exclusive for enterprise customers and educational institutions.
See the latest Wi-Fi Hot Spot Offers & Tariff from BSNL below:
Dear readers, please share your views and opinions about BSNL Wi-Fi Hang Out Centres via comments with us.