National telecom backbone, Bharat Sanchar Nigam Limited (BSNL), has launched Web Care service for enterprise customers on PAN India basis. BSNL added a new tab: 'Web Care Service – Request A Call Back'
on BSNL Website under enterprise segment.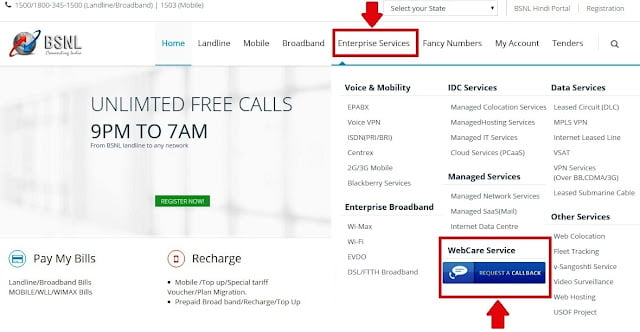 An enterprise customer who want services like Leased Circuits, MPLS-VPN, Internet Data Center Services, ILL (Internet Leased Lines), VPNoBB (VPN over Broadband), Mobile CUG, Bulk Landline connections,
Bulk push SMS, Bulk Broadband connection etc can register their requirement on BSNL portal
through
'Web Care Service – Request A Call Back' along with his contact details.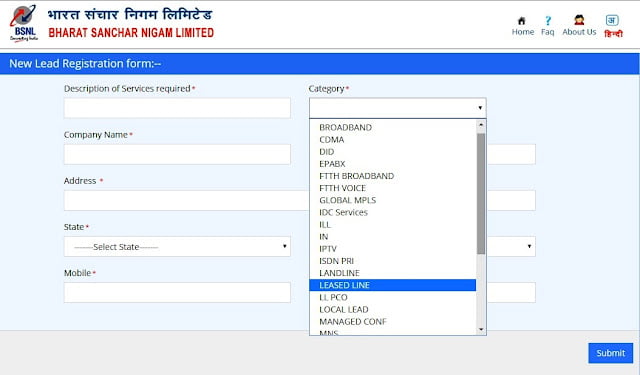 BSNL – The Total Telecom Service Provider – offers a variety of services to its enterprise customers as per their demand / requirement at the most competitive tariff. Being a PSU with PAN India coverage even in rural remote areas, BSNL has got the strategic advantage over other telecom providers.
Some of the major services offered by BSNL to Enterprise Customers are listed below:
Voice & Mobility
EPABX

Voice VPN

ISDN(PRI/BRI)

Centrex

2G/3G Mobile

Blackberry Services
Enterprise Broadband
Wi-Max

Wi-Fi

EVDO

DSL/FTTH Broadband
Internet Data Center (IDC) Services
Managed Colocation Services

ManagedHosting Services

Managed IT Services

Cloud Services (PCaaS)
Managed Services
Managed Network Services

Managed SaaS(Mail)

Internet Data Centre
Data Services
Leased Circuit (DLC)

MPLS VPN

Internet Leased Line

VSAT

VPN Services

(Over BB,CDMA/3G)

Leased Submarine Cable
Other Services
Web Colocation

Fleet Tracking

v-Sangoshti Service

Video Surveillance

Web Hosting

USOF Project
BSNL already launched Ultra Fast 4G LTE Services with 100Mbps download speed in Chandigarh and plans to extend its 4G coverage in 14 telecom circles which are – Kerala, Rajasthan, Himachal Pradesh, Punjab, Jammu & Kashmir, Haryana, UP (E), UP (W), Bihar, Orissa, Madhya Pradesh, Assam, North East, Orissa.

BSNL customers under 4G coverage zone will be able to download large files of the order of 1GB within few seconds.
This will play a vital role for video camera surveillance, traffic management solutions and the home land security services etc.
Read More: BSNL opened 4G experience centre in Punjab (Inauguration Photos Updated), Plans to launch Commercial Services by February 2016

BSNL trying their level best to increase revenue from its enterprise business. Recently, BSNL has slashed the tariff for Internet Leased Lines (ILL) by around 50% to compete with private operators. BSNL Internet Leased Lines offers download speed up to 1 Gbps to corporate business units, educational institutions, universities etc.
Read More: BSNL introduces New CUG Mobile Plan @ Rs 199 with Unlimited Free Calls for Enterprise / Corporate Customers
Dear readers, please share your views and opinions about BSNL's Enterprise Services via comments with us.