Kerala's No.1 telecom service provider, Bharat Sanchar Nigam Limited (BSNL) has decided to launch Ultra Fast 4G LTE Services in the state.
BSNL
Kerala Circle,

Chief General Manager Shri. L Ananthram said
that spectrum was available for the roll-out and that it would be done in collaboration with other operators.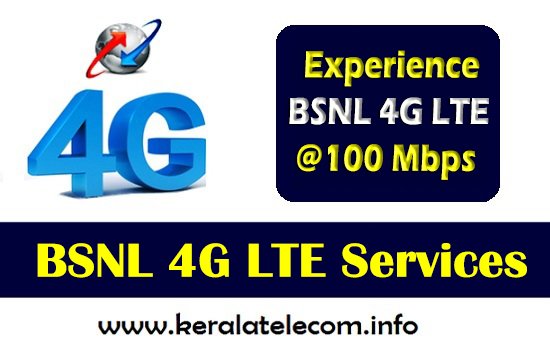 As we reported earlier, the PSU already launched its 4G LTE (Long Term Evolution) Services in Chandigarh. BSNL 4G LTE Service offers high speed wireless broadband having download speed up to 100 Mbps for Mobile Customers. BSNL Kerala Circle has also plans to commission 68 more new Wi-Fi Hotspots in the current financial year itself.

Till now, BSNL Kerala Circle has commissioned Wi-Fi Hotspots in 19 major locations in the state. BSNL will be installing 54 Wi-Fi Access points in 28 Hotspot locations in January 2016. Customers of any mobile company may access unlimited high speed internet from these WiFi hotspots. BSNL Wi-Fi service will be absolutely FREE for the first 15 minutes. Subscription plans will be made available once the free usage limit gets exhausted. Prepaid Wi-Fi vouchers are available with validity ranging from 20 to 365
days.
BSNL will be launching new Wi-Fi hotspots at the following locations in Trivandrum – Museum, Kanakakunnu Palace, Thampanoor KSRTC terminal & International Airport.
Read More: Digital India: BSNL to install 1626 Wi-Fi Hotspots in Southern and Western telecom circles before March 2016
Regarding the commercial launch of 4G LTE Services in the state, BSNL CGM did not give a specific time frame and said that the final call on the launch had to be taken by the
corporate headquarters.
Read More: Facebook in association with BSNL to Offer 20GB WiFi Broadband @ just Rs 200 to Rural India
Dear readers, please share your views and opinions about this latest news from BSNL regarding the launch of 4G LTE Services and Wi-Fi Hotspots via comments with us.