State run telecom major, Bharat Sanchar Nigam (BSNL) is all set for the launch of its Ultra Fast 4G LTE services in Chandigarh (Punjab Telecom Circle) today. As per the latest information, BSNL will be offering broadband speed of up to 100 Mbps on Mobile.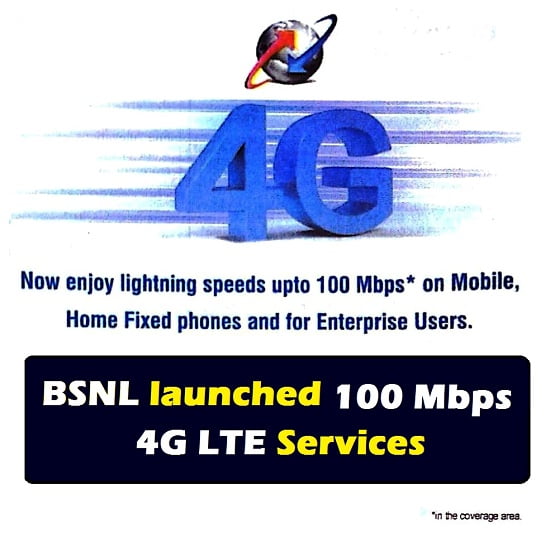 The company has published an advertisement in local newspapers about the launch of its 4G services by Shri N.K. Gupta, Director (CFA), BSNL Board. The launch of BSNL 4G services is scheduled at BSNL premise in Chandigarh. Currently, BSNL holds 4G Wireless Broadband spectrum across India except in Gujarat, Maharashtra, Andhra Pradesh, Karnataka, Tamil Nadu and Kolkata.
BSNL
advertisement
about the launch of its 4G services in Punjab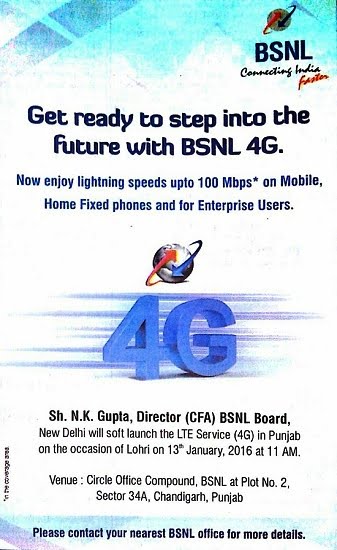 BSNL has also decided to launch 4G services in Jaipur in coming days.
Currently BSNL is conducting 4G proof of concept (PoC) in
Indore and Lucknow. BSNL has appointed
Gemini Communications as
the system integrator.
However, the tariff and other commercial details are not yet revealed by BSNL so far. It is also reported that, BSNL is in discussions with private telecom players to launch 4G services on PAN India basis. Reliance
Jio had already entered into a deal with BSNL for leasing out its mobile towers.
N K Gupta Director (CFA), BSNL said – "This soft launch is special for us and providing data services at a high-speed is good for the growth of the industry."
BSNL 4G Speed Test Result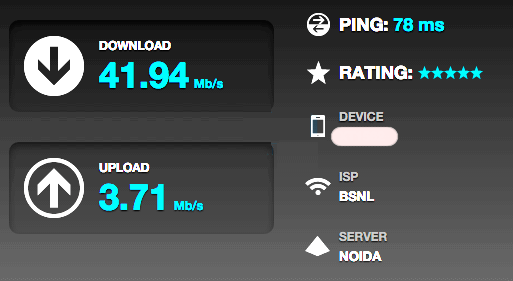 The company is also integrating its mobile network with Wi-Fi Hotspots to cater the heavy data demand of mobile customers. BSNL plans to install around 40,000 Wi-Fi hotspots in the coming three years.
Dear readers, please share your views and opinions about the launch of BSNL Ultra Fast 4G LTE Services via comments with us.