PAN India 3G service provider, Bharat Sanchar Nigam Limited (BSNL) launched

SMS based number selection process

for it's customers and channel partners like – Retailers, DSAs, RDs and Franchisees on PAN India basis. BSNL already offers the facility to book choice mobile numbers online through BSNL CYMN Portal.
SMS based number selection is very much helpful for BSNL Retailers and customers since it will help them to save their precious time. Retailers will be able to sell BSNL Mobile numbers having specific number pattern as requested by customers. The SMS based number selection process is very simple and easy.
BSNL Choose Your Mobile Number (CYMN) via SMS: Detailed procedure for selection and activation of Choice Number
To get the list of spare / Free mobile numbers containing specific number pattern 'XXXXX' (XXXXX can be any 3 to 5 digit), customers may send SMS – NLIST space CIRCLE CODE space XXXXX to 53734 (for BSNL Mobile Customers). Example: To get number containing number pattern 57895 for Kerala Circle, send NLIST KE 57895 to 53734.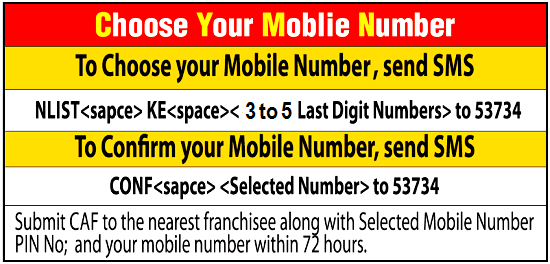 A list of spare mobile numbers with matching pattern – XXXXX – will be sent to the mobile number from which the request is initiated.
For reservation of Choice Mobile number the Customer has to send sms as – CONF space ChoiceNumber to 53734.
The numbers will be reserved and allotted on First come First Serve basis only.
On receipt of the SMS, the number will be RESERVED and the Customer will be informed accordingly by sending a 7 digit PIN number for the booked GSM number. This process may take about 15 minutes.
If the number is already allotted at the time of receipt of SMS, the Customer will be intimated accordingly and can try again.
Telecom Zone
Telecom Circle
BSNL Choose Your Mobile Number – SMS Code – for Circle
East
Andaman & Nicobar
AN
Assam
AS
Bihar
BH
Jharkhand
JH
Kolkata
CTD
North East I
NE-1
North East II
NE-2
Orissa
OR
West Bengal
WB
North
Punjab
PB
Haryana
HR
Himancal Pradesh
HP
Jammu & Kashmir
JK
Uttar Pradesh (W)
UW
Uttar Pradesh (E)
UE
Uttrakhand
UL
South
Andhra Pradesh
AP
Chennai
CHN
Tamil Nadu
TN
Kerala
KE
Karnataka
KAR
West
Gujarat
GJ
Maharashtra
MH
Madhya Pradesh
MP
Chhattisgarh
CG
Dear readers, please share your views and opinions about BSNL Choose Your Mobile Number (CYMN) Scheme via comments with us.