Service tax rate has just increased from 14 to 14.5 percent with effect from 15th November 2015 and all Indian telecom operators are busy in revising their existing Prepaid STVs. We have already seen the revision of BSNL Prepaid 3G/2G Data STVs and CDMA/EVDO Prepaid STVs.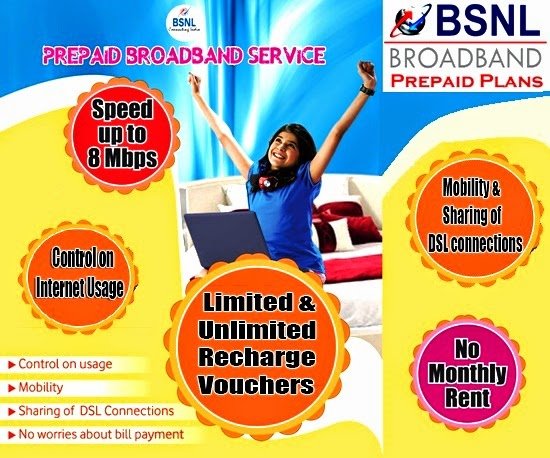 Now it is the time for revision of BSNL Prepaid Broadband Vouchers which include – Activation Charges, Recharge Vouchers, Top Up vouchers and Validity Vouchers of BSNL Prepaid Broadband Service. As per the latest information, BSNL will be revising the Activation Charges Only whereas the existing
Recharge Vouchers, Top Up vouchers and Validity Vouchers will remain the same.
Implementation of enhancement in Service Tax rate from 14% to 14.5% (including Swachh Bharat Cess) under pre-paid broadband service
Activation (prepaid broadband account creation) charges of Rs 100/- (exclusive of service tax) may be collected at the revised service tax rate i.e. Rs 100/-plus 14.5% service tax.
Volume based recharge vouchers/top up vouchers/validity vouchers:- The enhancement of service tax rate may be absorbed by BSNL in respect of volume based Prepaid recharge vouchers/ Top-up vouchers/validity vouchers of prepaid broadband service.
The above changes will come into effect across all telecom circles with immediate effect.
All other terms and conditions shall remain unchanged.
See the latest Unlimited & Limited Usage Prepaid Broadband Plans from BSNL below:
BSNL offers Prepaid Broadband Plans having download speed up to 8 Mbps for Home & Business customers. Prepaid Broadband Plans starts with a minimum recharge amount of Rs 200 (BBV RL 200) and maximum of Rs. 3000 (BBV RL 3000).
Dear readers, please share your views and opinions about BSNL Prepaid Broadband Services via comments with us. How many of you are familiar with Prepaid Broadband Service?