State run telecom major Bharat Sanchar Nigam Limited (BSNL) is all set to offer WiFi Services during the

12th South Asian Games

co-hosted by Guwahati and Shillong from February 6-16, 2016. As per the latest information, BSNL will be offering high speed WiFi services in all stadiums.
BSNL CMD Shri Anupam Shrivastava said, "The South Asian Games is being held in Guwahati and Shillong and BSNL is rolling out Wi-Fi in all stadiums." There will be 23 sport disciplines for the 12th South Asian Games of which 16 will be held in Guwahati, Assam and 7 in Shillong, Meghalaya.
There are a total of 14 venues for the 12th South Asian Games of which 10 venues for the 15th sport disciplines will be held in Guwahati and 4 venues for the remaining 8 sport disciplines will be held in Shillong. BSNL is planning to Wi-Fi all venues so that spectators can benefit from this initiative.
About 4,500 sportsperson and officials from 8 countries are expected to participate in 23 events from 12th South Asian Games (SAG) in 2016 edition. SAG are joined by eight member countries namely Afghanistan, Bangladesh, Bhutan, India, Maldives, Nepal, Pakistan & Sri Lanka. The governing body of these games is South Asia Olympic Council (SAOC), formed in 1983.
BSNL will be installing new 3G and 2G Mobile Towers
to cater the heavy traffic during the South Asian Games 2016. The PSU has also decided to
upgrade all existing 3G and 2G mobile towers
of nearby venues by 31-12-2015.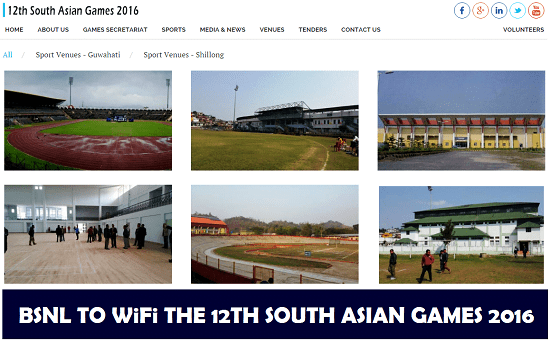 To improve the quality of service of Broadband Services, BSNL will buy additional 10Gbps connectivity between Shillong – Guwahati and Guwahati – Kolkata from PGCIL (Power Grid Corporation of India Limited).
The BSNL stall at Guwahati airport will be upgraded with portable photo copier, portable camera and printer so that visitors can be provided BSNL SIMs on the spot. Similar stalls are to be installed near railway stations and game venues.
Dear readers, please share your views and opinions about this latest news via comments with us.