State run telecom major Bharat Sanchar Nigam Limited (BSNL) is taking various initiatives to improve its market share and quality of services. As part of these initiatives,
employees of BSNL today took a pledge to serve all customers with a smile and resolve any service related issues as soon as possible.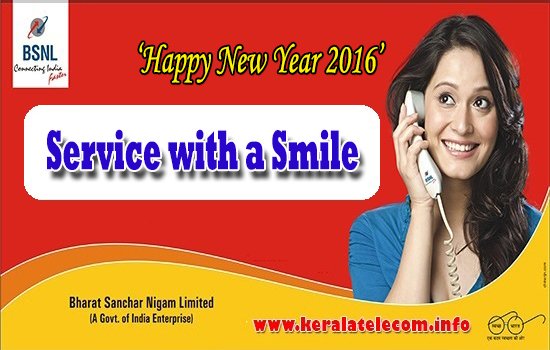 The new programme –
'Service with a Smile (SWAS)'

will be observed in all BSNL Offices from 1st January 2016 on wards throughout the country. This new theme was initially proposed by forum of BSNL unions / associations with special focus to customer care, to improve the quality of service and to substantially increase the number of landline, mobile, broadband and leased line customers.
BSNL CMD Anupam Shrivastava administered the oath to the employees at the company's office in New Delhi whereas similar pledge ceremonies took place at all BSNL telecom circles across the country.
BSNL CMD Anupam Shrivastava said "All employees pledge today to serve the customer with new motto i.e. 'Service with a Smile' (SWAS). The theme SWAS was missing till now in BSNL. Often people talk about network, equipment, OFC cable and other infrastructure but the quality of service we offer is what that matters a lot. When Government is celebrating the 'Good Governance Week', there cannot better theme for BSNL than to provide service with a smile to our all customers."
He further added that, this theme will be effective from January 1, 2016 and there will be no expiry date for it.
The following steps
will be taken by the employees of BSNL under the 'Service with a Smile (SWAS)' programme
.
Improving customer care: Special focus will be given to customer care and
customer satisfaction. Special attention will be given to address the grievances of the customers related to billing, faults and all matters related to service.
Ensuring fault free service: Utmost care will be given to ensure customer satisfaction by providing a fault free service. Atleast 60%
of the faults will be cleared on the same day.
Improving service of mobile services: All efforts will be taken to reduce the the downtime of Mobile Towers (BTSs) and thereby to improve the q

uality of mobile services.
Maintenance of fault free cable network: Special attention will be given for the maintenance of BSNL's copper cable network (landline network).
Dear readers, please share your views and opinions about this new initiative –

'Service with a Smile (SWAS)'

– by BSNL via comments with us.