BSNL has announced the extension of two of its most popular Per Second billing Voice STVs – 149 and 449 for another period of 90 days with effect from 22-12-2015. At this time, BSNL has also decided to reduce the existing validity of both STVs.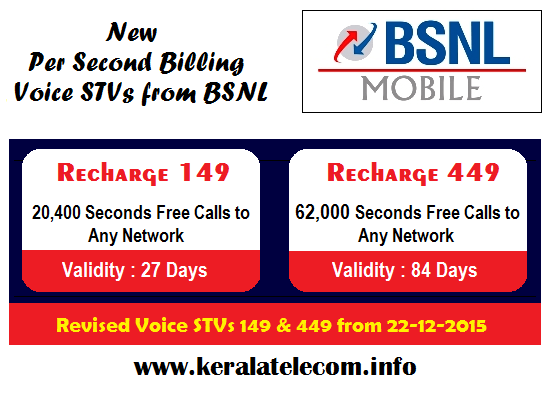 Revised Voice STVs –
149 & 449 from 22-12-2015 to 20-03-2016
Sl No
MRP of STV
in Rs (Inclusive of
Service Tax)
Freebies / Features
Revised Validity (Days)
How to Activate ?
1
149
20,400 seconds Free Calls (Local/STD) to Any Network
27
Recharge 149
or
send sms
STV VOICE149 to 123
2
449
62,000 seconds Free Calls (Local/STD) to Any Network
84
Recharge 449
or
send sms
STV VOICE449 to 123
Voice STVs 149 & 449 are best suited
for customers having moderate / high voice calls to Local / STD numbers
of Any Network in India.
Customers having sufficient prepaid account balance may activate these voice STVs through SMS or Web selfcare. The balance deducted from main account will be Rs 130.13 & Rs 392.14 respectively for Voice STVs 149 & 449.
Dear readers, please share your views and opinions about this latest revision of Voice STVs 149 and 449 via comments with us.