India's largest Public Sector Unit Bharat Sanchar Nigam Limited (BSNL) reported an

Operating Profit of Rs 672 Crore

for the Financial Year 2015. BSNL CMD Shri Anupam Srivastava said that, the PSU has started showing positive signs of revival.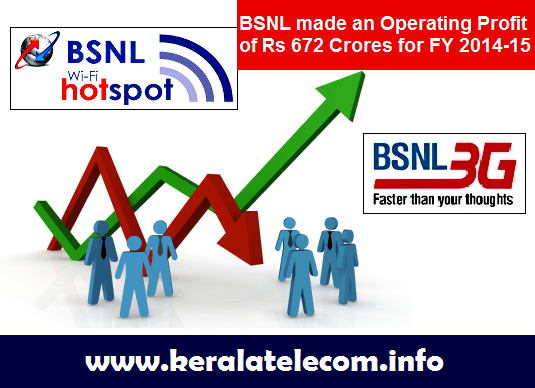 BSNL had posted an operating loss of Rs 691 Crores in the previous financial year. As per the latest information, income from services increased by 4.16 per cent to Rs 27,242 crore in 2014-15, which is highest in comparison to the previous five years. Income from services was Rs 26,153 crore in the previous financial year 2013-14.
Anupam Shrivastava said – "

BSNL had bad results for the last few years, but in year 2014-15, it has been able to reverse the trend. Also it is a known fact that most of the telecom majors are having heavy debt burdens but it still continues to be relatively better, showing a low debt-equity ratio".
"BSNL will be investing Rs 7,700 crore in the current financial year to expand network. The company also plans to launch 4G Wireless Broadband services on 2600 MHz band in a couple of cities by the end of March. BSNL is focussing on data. Currently 10 per cent of the revenue is coming from mobile data" – Shrivastava added.
The CMD further said BSNL has started to monetize its towers by entering into agreements with other operators and there is 42 per cent increase in tower business. A tower subsidiary will be created as the Cabinet has already cleared the proposal for that.

However, the net loss of BSNL though increased to Rs 8,234 crore for the reported fiscal compared with Rs 7,020 crore last year, mainly on account of asset depreciation calculated as per the Companies Act. The loss could have come down to Rs 5,370 crore if the company would have calculated its asset depreciation as per the old Act.
Dear readers, please share your views and opinions about this exciting news about the wonderful performance of BSNL via comments with us.