BSNL announced Exclusive Mela Offers for it's Prepaid and Postpaid Mobile Customers of Kerala Telecom Circle for the month of November 2015. During the offer period, customers can avail Full Talk Time, Extra Talk Time, Free Prepaid SIM Cards and Free Activation of Postpaid Mobile Connections via
Melas / Exhibitions conducted by BSNL.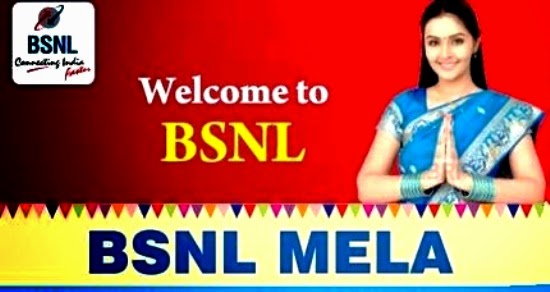 In addition to the existing Full Talk Time / Extra Talk Time offers BSNL Kerala, the highest revenue generating circle of BSNL, announced the following offers those can be given during Melas / Road shows / Exhibitions, which may conducted by BSNL Kerala circle in their territory.
Mela offers will be available for ten days from 12th November to 21st
November 2015.
BSNL Kerala Circle: Mela Offers – November
2015 (from
12-11-2015 to 21-11-2015)
Full Talk Time for Top Up 220
Free Prepaid BSNL SIM cards (32K/64K) to the customers for new connections provided through Roadshows / Melas / Exhibitions.
Waiver of activation charges of Rs.100/- for new Postpaid connection of any plan purchased from Melas / Exhibitions.
BSNL customers can activate the new connections with latest Kerala BSNL Mobile Plans ( Prepaid / Postpaid ) having the lowest tariff including data services.
New BSNL Customers cannot be given 128K/256K SIM at free of cost.
These Free SIM / Free Activation offers (Free 32K/64K SIM & Waiver of Activation Charges for New Postpaid Mobile) shall be given to new BSNL customers only during the mela period, through Roadshows / Melas / Exhibitions conducted by BSNL in Kerala Telecom Circle.
See the consolidated list of Full Talk Time / Extra Talk Time Offers from BSNL in November 2015
Sl No
Full Talk Time / Extra Talk Time
Offer Denomination
Offer Period
Applicability
1
Independence Day / Onam Special Full Talk Time Offer
Top Up 150, 250, 550
Offer available

upto 10-11-2015

All Prepaid Mobile Plans
2
Onam Special 7% Extra Talk Time Offer
Top Up 1000, 1100, 1500, 2000, 2200, 2500, 3000 & 3300
Offer available

upto

10-11-2015
All Prepaid Mobile Plans
3
Onam Special 15% Extra Talk Time Offer
Top Up 5500 & 6000
Offer available

upto

10-11-2015
All Prepaid Mobile Plans
4

[NEW]

Deepavali Special Full Talk Time Offer
Top Up 60, 80, 100
Offer available

from 06-11-2015 to 12-11-2015
All Prepaid Mobile Plans
5

[NEW]

Mela Special Full Talk Time Offer
Top Up 220
Offer available

from 12-11-2015 to 21-11-2015

All Prepaid Mobile Plans
See other latest tariff updates and Offers from BSNL for its customers below:-