India's largest landline service provider Bharat Sanchar Nigam Limited (BSNL) has launched a Next Generation Unified
Communication Email Platform for its Broadband customers across India with 1GB free storage. Earlier, the PSU was offering free email id ( http://mail.bsnl.in ) with 50MB storage space to its broadband customers.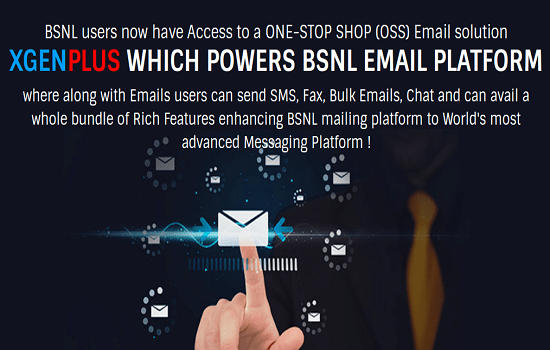 One of the main attractions of the new email service is the Unified
Communication which enables one to send SMS, Fax, Bulk emails, Instant
Messages right from the email account. The new email service is being rolled out to 9.91 million broadband
customers in the country. BSNL launched this new email platform in association with XgenPlus (Powered by Data Infosys).

Some attractive features of BSNL XgenPlus Email Service are:

One Time Password: A password valid for 30 minutes can be used instead of regular password.
Image Compression: Compress the image ON THE FLY up to 25% of the original size without the need of any additional compression software and without compromising the quality of the image
Unified Collaboration: XGen Plus allows you to schedule & manage events and meetings. With XGen Plus, Manage meetings and invite other people to the meetings
Rights Management: Now while you are sending the email to any of your colleague in the organization, you can define the rights whether, recipient can Delete/Fwd/Reply or print this email or not. Off course from the sent email, you may reset those rights at later stage too.
Easily Connect & Share: Send and Receive E-mails from any Internet connection or with your preferred email client like Outlook, Eudora, Thunderbird or may be your smart phone.
Secured Hidden Attachments: Maintain the security and secrecy of your confidential data by sending Secured Hidden attachments. Conceal your information/file inside a seemingly harmless digital picture.
Search in Attachments: Now you can search into the attachments. Just to go Search Tab and notice the change
Advanced Calender with SMS: Now you can set your appointments and get alerted on SMS. You can also set the repeat intervals and automatically you will be reminded. It's a cool feature for wishing birthdays and anniversary.
Inbuilt Media Player: Xgen has inbuilt media player, if you are receiving popular videos in your email, you need not to download them , just click on Play and it will be streamed and played back within your browser itself instantly.
Advanced Forwarding: For blackberry users, (who are not using BES), now choose which emails to forward on blackberry and put the rules under Filters/Rules/Advance Forwarding section and reduce unwanted email traffic on blackberry.
Inbuilt Bulk Email & E-Marketing Solution useful for enterprise customers
BSNL Broadband Customers may enjoy all these advanced features in the latest email service provided by XgenPlus. Existing / old customers may migrate their email account to this latest email platform.
How to access BSNL's Next Generation Email Service 'XgenPlus' by Broadband Customers
Step 1: BSNL Broadband customers may access BSNL Email service via http://mail.bsnl.in
Step 2: To find your BSNL Email Address, click on 'Click Here to Find your Email Address' link as shown in the above screenshot.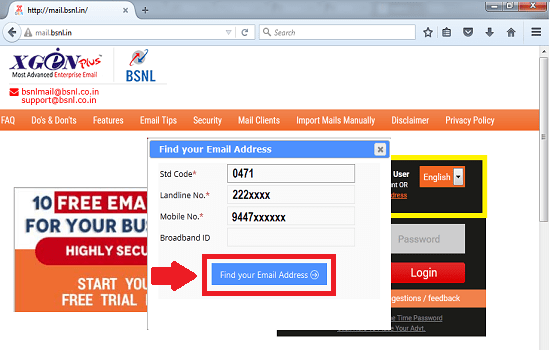 Step 3: Just fill in the required details like -STD Code, Landline number, Mobile Number and click on 'Find your Email Address'.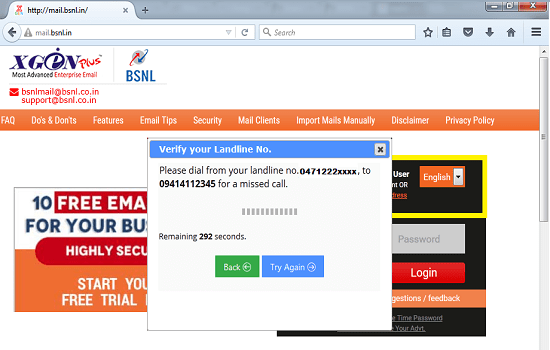 Step 4: Verify your landline number by dialing 09414112345 for a missed call.
Dear readers, please share your views and opinions about this latest – Unfied Messaging – email service by BSNL via comments with us. How many of you have tried BSNL Email Services?