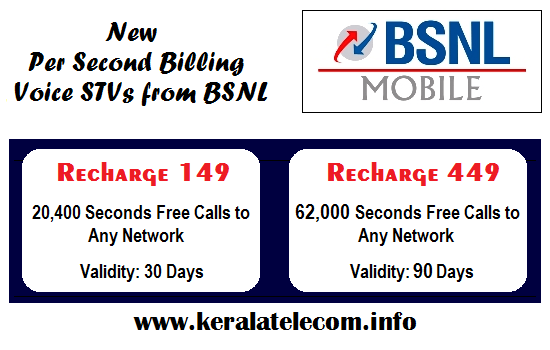 Voice STVs 149 & 449 are best suited for customers having moderate / high voice calls to Local / STD numbers of Any Network in India. 'Voice STV 149' offers 30 days validity whereas 'Voice STV 449' offers 90 days validity.
Details of Per Second Billing Voice STVs 149 & 449
Sl No
MRP of STV
in Rs (Inclusive of
Service Tax)
Freebies / Features
Validity (Days)
How to Activate ?
1
149
20,400 seconds Free Calls (Local/STD) to Any Network
30
Recharge 149
or
send sms
STV VOICE149 to 123
2
449
62,000 seconds Free Calls (Local/STD) to Any Network
90
Recharge 449
or
send sms
STV VOICE449 to 123
These STVs can be activated by flexy recharge or by sending sms code to 123 as given in the above table.
Recently, BSNL Kerala Circle has decided to convert one of its most popular Voice STV – 135 from second based tariff to minute based tariff with effect from 29th September 2015 onwards. See its details below:
Customers previously enrolled in Voice STV 135, who wish to enjoy per second tariff, may subscribe to these new Per Second based Voice STVs 149 or 449.
Please Note: STVs of same MRP only will get accumulated or carried forward. While changing to STV 149 / 449, the balance remaining in STV 135 will not get added or carried forward to the new STV 149 / 449 account.
See other Local / STD Voice Calling STVs / Offers from BSNL below:
Read More: BSNL will launch 4G Services at competitive tariff by this year itself to take on private operators says CMD Anupam Srivastava


Dear readers, please share your views and opinions about the extension of Per Second based Voice STVs – 149 & 449 via comments with us. How many of you have already changed to STV 149 from STV 135?