India's largest landline service provider Bharat Sanchar Nigam Limited (BSNL) doubled the sale price of Caller ID Landline telephone instrument for new landline / broadband customers who opt telephone instrument from BSNL. Earlier, BSNL provided caller ID landline telephone instruments to new customers at a discounted rate of Rs 300/- per unit.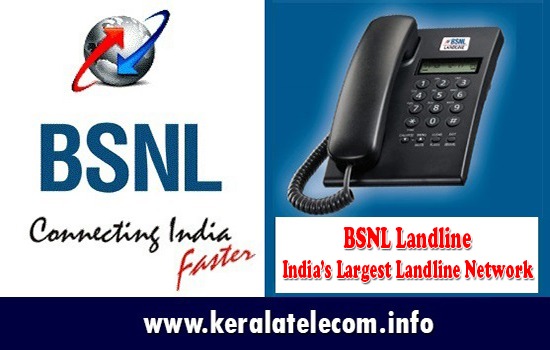 As per the latest information, BSNL will be providing caller ID telephone instrument to new customers at Rs 600/- per unit. The revised charges are applicable on PAN India basis to all BSNL telecom circles with effect from 1st September 2015 onwards.

Existing customers may also replace their old telephone instrument with brand new BSNL Caller ID Landline instrument at Rs 600/-.
BSNL Landline Initial Charges for New Customers (PAN India Tariff – applicable to all BSNL Telecom Circles in India)
Charges
Registration Charges (One Time Charges)
Registration Charges
Nil
Security Deposit (Refundabl)
Security Deposit for Local + STD
Rs 500
Security Deposit for Local + STD + ISD
Rs 2000
Installation Charges (One Time Charges)
Installation Charges in Rural Areas
Rs 550
Installation Charges in Urban Areas
Rs 600
Instrument Charges
Caller ID Landline Instrument Charges For New Customers / Replacement
Rs 600
BSNL already slashed the installation charges for New Landline / Broadband connections in urban areas from Rs 750 to Rs 600 from 01-09-2015 onwards on PAN India basis.
In addition, to promote landline business and to increase the broadband penetration, the PSU launched special offer of Free Installation Charges (waival off 100 percent installation charges) for New Landline / Broadband Customers of Kerala Circle upto 13th November 2015.
BSNL has also decided to upgrade the minimum speed of broadband connections from 512 Kbps to 2 Mbps from 1st October 2015 without increasing the monthly charges.

Recently launched Unlimited Free Night Calling Scheme from BSNL is getting overwhelming response from customers across India. Customers who need new landline / broadband connections may register their request online through BSNL Online Portal.

See the Latest and updated list of Landline and Broadband Tariff Plans and Offers from BSNL below:


Dear readers, please share your views and opinions about this evision of Landline Instrument charges via comments with us.