BSNL Kerala circle – the highest revenue generating BSNL Unit – has registered a profit of Rs 486 Crore in the financial year 2014-15. BSNL Kerala Circle Chief General Manager Shri M S S Rao announced the revenue performance of BSNL Kerala Circle to media during a press meet on 15th September 2015 at Trivandrum.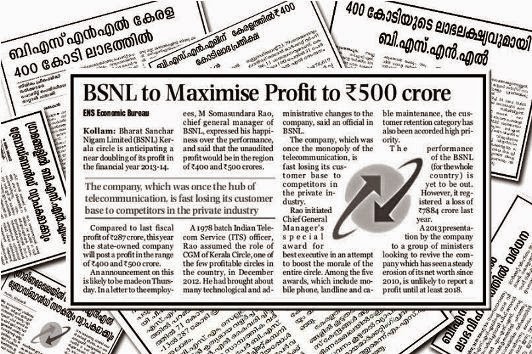 Though the central PSU is struggling at the national level, Kerala Circle managed to increase its profit
from Rs 411 Crores (
in the

FY 2013-14) to 486 Crores (in the FY 2014-15). The revenue growth has been primarily driven by GSM Prepaid sector & ADSL Broadband.
BSNL Kerala CGM Sri MSS Rao said – "The Kerala circle is performing very well and registers growth in all aspects including revenue and profit. The circle has registered a profit of Rs 486 crore during the financial year 2014-15. The profit from the circle was Rs 411 crore and Rs 287 crore during 2013-14 and 2012-13 fiscals respectively."


For BSNL Kerala Circle, revenue has been constantly increasing. The total revenue generated for the first five months (April to August of 2015) rose to Rs 1180 Crores which is Rs 40.16 Crores higher than the corresponding period for the previous financial year. Major revenue contribution was from GSM Prepaid and ADSL Broadband sectors.
Revenue Performance of BSNL Kerala Telecom Circle – Highest Profit of Rs 486 Crores was achieved during the FY 2014-15
Financial Year
Gross Revenue in Crores of Rs
Profit in Crores of Rs
2012-13
2367
287
2013-14
2592
411
2014-15
2838
486
2015-16 (Upto August)
1180
—
The total GSM prepaid revenue for the month of August 2015 alone was Rs 108.17 Crores and the total for the last five months is Rs 498.53 Crores. Similarly, Broadband revenue for the month of August 2015 was Rs 46.13 Crores and the total for the last five months is Rs 223.73 Crores.
BSNL Kerala Circle is showing healthy growth in FTTH (Fiber Broadband) and WiMax also.
As far as GSM segment is concerned, the Kerala Circle revenue has been constantly increasing and reached a high of Rs 118 Crores in August 2015 and the MNP figures are healthy and positive in favour of BSNL.
Recently launched Unlimited Free Night Calling scheme for Landline/Broadband customers and Free All India Roaming for Mobile customers has already made a positive impact among users and the PSU is getting new customers in both Landline & Mobile segments.
Read More: BSNL to upgrade bandwidth of all Broadband Plans with Minimum speed of 2Mbps from 1st October 2015 onwards


BSNL Kerala CGM, Shri Rao further said, frequent strikes and agitations, called by various employees unions which include around 13,000 regular employees and 7,000 outsourced contract workers, hit the growth of the circle. He also alleged that a section of union leaders, who have differences with him over several issues, target him personally and even threatened him.
Dear readers, please share your views and opinions about this wonderful performance by BSNL via comments with us.