BSNL has decided to introduce Online Mobile Number Booking and Instant / Express Activation across all telecom circles. This services is the first of its kind by any service provider in India as
it provides customers to select Mobile Numbers of their choice
at his convenience without wasting time in front of customer care counters.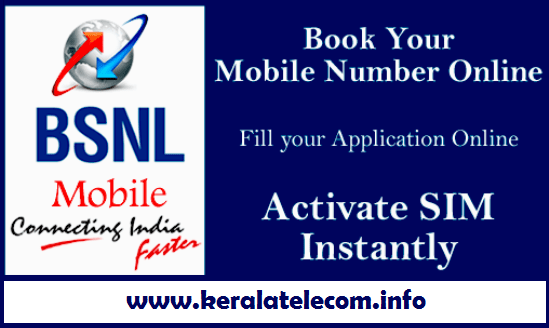 Earlier, to get a new BSNL Mobile (prepaid or postpaid) connection, customer had to visit a BSNL Customer Care Office or Telephone Exchange. The activation process may take more time as customers need to fill up application and selection of numbers is also not allowed in most of the cases.
Now after the launch of 'Express Activation of Mobile
Numbers', the process of getting a new BSNL Mobile Number has become
very easy. Customers may select their favorite BSNL Mobile number Online through BSNL Choose Your Mobile Number (CYMN) Portal from a list of available numbers.
BSNL Mobile Number Express / Instant Activation Process
A secret code is generated and sent to the your mobile number.
Fill up the application online with accurate details as per the POI (Proof of Identity) & POA (Proof of Address) with your contact number, e-mail ID, and submit it.
A list of available CSCs is sent to your e-mail ID that you provided.
Visit any CSC of his choice at any time during the working hours within 72-96 hours, and then visit the 'Express Counter' to mention your secret code.
The CSR retrieves your BSNL Mobile Online application, checks the application form for its correctness, and verifies your Proof of Identity/Proof of Address.
If everything is correct, a print-out of the application is taken and the your signature and photo are obtained.

This new concept has initially launched at Chennai Telephones, where 4079 total Online Customer Acquisition Forms (CAFs) has generated and 3669 new connections are provided i.e 90% of the registrations have become new BSNL Mobile Connections instantly. So BSNL introduced this Expresss Activation concept immediately on PAN India basis and given instructions also to all their circles to implement this with in a short time.
Dear readers, please share your views and opinions about this new initiative by BSNL via comments with us.