Now BSNL Mobile customers need not wait for customer care executives to answer their calls to register complaints. National telecom backbone Bharat Sanchar Nigam Limited (BSNL) launched Online Customer Care Portal to register complaints of GSM Mobile (3G & 2G) customers across India.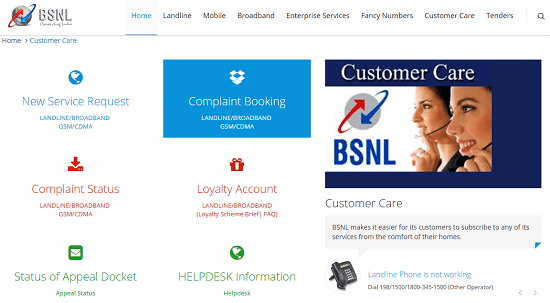 BSNL prepaid and postpaid mobile customers may lodge as well as check the status of previously registered complaints through BSNL Online Customer Care portal. BSNL launched this online Customer Care portal in an attempt to improve customer satisfaction.
This would also reduce complaints about non-answering of calls by Customer Care Executives.
Apart from GSM Mobile Complaints, BSNL Online Customer Care portal also offers the following services:-
Now, let us see the detailed procedure for registering BSNL Mobile Complaints through Online Customer Care Portal.
Log on to BSNL Website (www.bsnl.co.in) and Click on

'Customer Care'

and Select your 'Circle/State'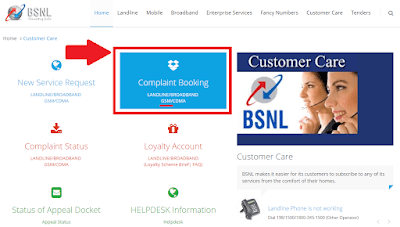 (Click/Tap to Zoom Image)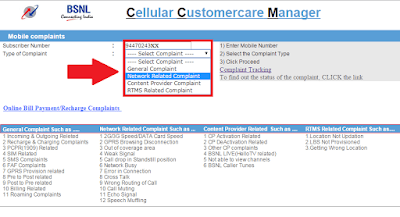 (Click/Tap to Zoom Image)
Enter your 'BSNL Mobile Number (10 Digit Number)' and select 'Complaint Category' from the drop down list. Then click on 'Proceed'. (Eg:- To register 3G/2G Speed related complaint, select 'Network Complaint' and click on Proceed.)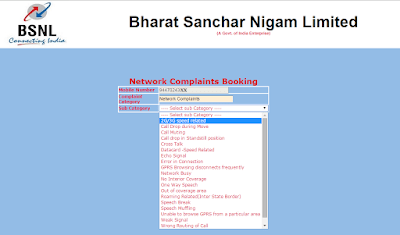 (Click/Tap to Zoom Image)
Now Enter your details like

'SSA(District Name)'

, Name of Location with respect to complaint,

Alternate Contact Number

and Case Summary in a few words and click on 'Register'.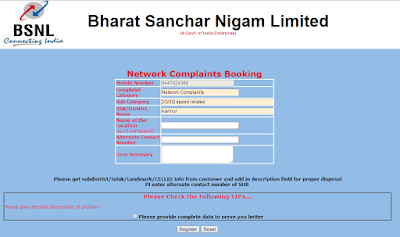 (Click/Tap to Zoom Image)
Your complaint will be registered and an SMS notification with docket number of the registered complaint will be sent to your Mobile Number (for which complaint was lodged). Please note down the docket number for future reference.
Now let us see how to check the status of our old complaint which was earlier registered through Customer Care Executive or through Online Portal.
How to Track Previously Registered Complaint through Online Customer Care Portal?
To keep tack of already registered complaint, we may log on to BSNL Online Customer Care Portal and Click on 'Complaint Status GSM' link and select your Circle/State.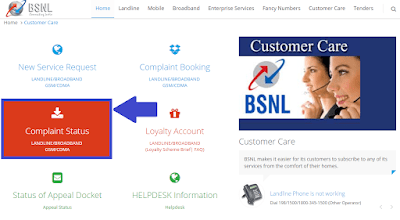 (Click/Tap to Zoom Image)
Now, Click on 'Complaint Tracking' link provided in the page.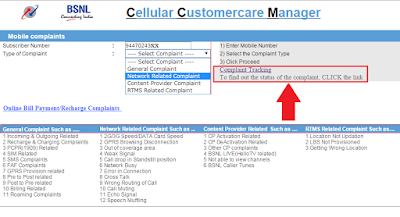 (Click/Tap to Zoom Image)
Enter

'Mobile Number'

and 'Docket Number / Complaint Number' and click on 'Submit'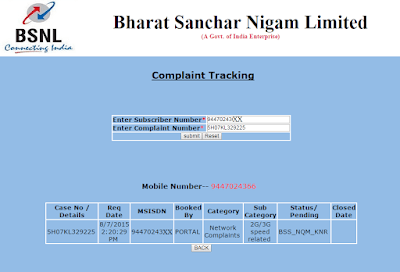 (Click/Tap to Zoom Image)
Then, the present status of your complaint will be displayed on screen. It will also display the section under which your complaint is pending.
Dear readers, we hope this article was helpful in registering your complaints related to BSNL Mobile Services through Online Customer Care Portal. Please share your views and opinions about this article via comments with us.