As per TRAI guidelines, the state run telecom operator Bharat Sanchar Nigam Limited (BSNL) will be launching mobile data service activation facility through new toll free short code 1925 from 1st Spetember 2015 onwards. BSNL Prepaid Mobile customers who need 3G/2G mobile internet facility may activate the same by sending sms

START

to

1925

.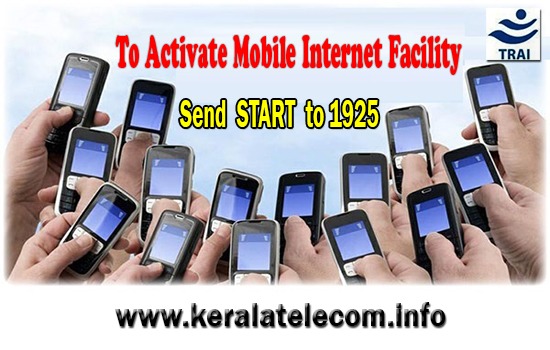 Due to this modification, the data service will not be available initially and the prepaid customers who wish to activate 3G/2G data for the first time may send the sms keyword – START to 1925. After sending the SMS, any data STV can be activated through C top up / USSD Selfcare.

It means, from 1st Septemeber 2015 onwards, each BSNL prepaid mobile customer who need 3G/2G mobile internet / data services may activate the same by sending START to 1925. Activation of mobile data / internet service through SMS has to be done initially for the first time by each customer.
NOTE: The above instructions are applicable to all New BSNL Prepaid Mobile Connections activated from 01-09-2015 onwards. (Existing customers may enjoy uninterrupted data services as before.)


Data service will be barred / inactive for all those customers who does not send the desired SMS keyword to toll free short code 1925.


To protect the interest of of consumers using wireless data (2G/3G/4G) service and to reduce the number of complaints, TRAI issued new guidelines earlier in August 2015.


Read More: Mobile Users can activate/deactivate Internet service through Toll Free Short Code 1925, Operators cannot charge beyond the subscribed data limit: TRAI


Under the amended rule, TRAI has clarified that the consent of a customer expires after the subscribed mobile internet limit, like 500MB, 1GB etc. gets exhausted. It means, operators cannot charge consumers subscribed to data packs such as STV (special tariff voucher) / Combo Voucher / Add-on pack, beyond the subscribed data limit.


Dear readers, please share your views and opinions about this new data activation / deactivation procedure via comments with us. Whether this would help to reduce complaints?