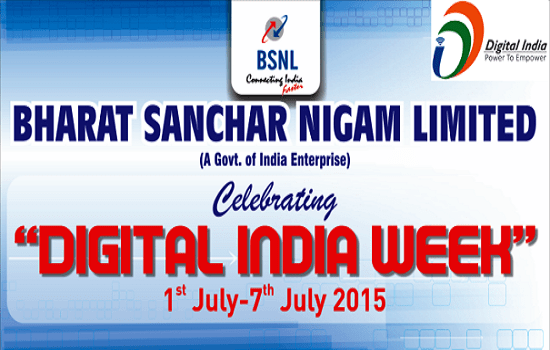 As part of Digital India programme, the state run PSU, Bharat Sanchar Nigam Limited (BSNL) has decided to celebrate the first week of July 2015 as 'DIGITAL INDIA WEEK' across all telecom circles. BSNL has played a very important role in implementing this ambitious project. BSNL has laid Optical Fiber Cable connecting Gram Panchayats under National Optical Fibre Network (NOFN).
NOFN optical fibre network which is going to be the backbone of
Digital India project

for the implementation of various
e-governance schemes like
Digital Locker, e-education and e-health etc. The same network will be connecting around
2,50,000 Gram Panchayats by 2016.
Various activities are going to be organised on an all India basis throughout BSNL as part of
'DIGITAL INDIA WEEK' celebrations. BSNL is performing its responsibility by helping bridging the digital gap in our society for its social, educational and economical upliftment.
"Special camps are also going to be organised during the week where we will educate common people on online recharge of mobile, payment of utility bills and Internet banking usage" – Srivastava added.

As part of Digital India, high-speed Internet services will be made available to all Gram Panchayats and BSNL is a proud partner in this project with the National Optical Fiber Network (NOFN).

BSNL is one of the largest broadband service providers and all urban and rural telephone exchanges of BSNL are equipped with broadband facilities covering 100 per cent and 90 per cent, respectively. BSNL is the first broadband service provider to offer minimum 512 kbps speed to both urban and rural customers. BSNL also offers broadband speed of up to 100 Mbps though Fiber Broadband Services (FTTH).
Anupam Srivastava said –

"We are also coming up with mobile wallet, m-Governance, machine-to-machine technology like smart meters and Internet data centres. The Employees' Provident Fund Organisation (EPFO) is also using our cloud based services and the Election Commission is tapping our computing capacities with the six data centres that we have."
URL for Webcasting of Digital India Project by Prime Minister Narendra Modi at 04:00 pm is given below:
Dear readers, please share your views and opinions about this prestigious project – Digital India – and BSNL's contribution in this project via comments with us.