Lots of misleading
news and rumours are currently circulating in social
media and in news papers about BSNL's Unused Data Carry forward facility.
Currently BSNL allows accumulation and carry forward facility of unutilized data, only for prepaid 3G/2G data STVs of same MRP.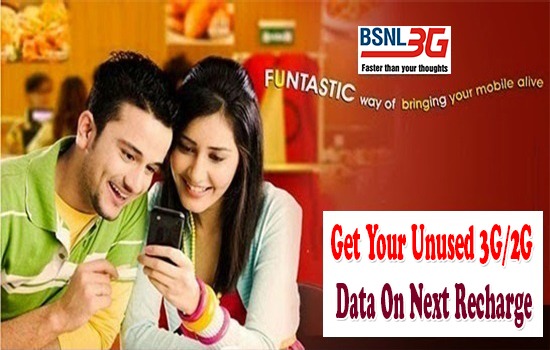 It means, the balance data left in the previous data STV cannot be carried forward by recharging another data STV having different MRP within the validity period. As we reported in February 2015, BSNL issued orders to stop the data carry forward facility in GSM Prepaid Mobile Services.


Later in May 2015, after getting feedback from Customers and field units, BSNL decided to continue the accumulation and carry forward facility of unused data. In addition, BSNL Corporate office instructed all nodal billing centers to allow accumulation of unutized data for all prepaid mobile customers of BSNL in all the four telecom zones.
Following this order, all other telecom zones except West Zone, successfully implemented the Data accumulation and carried forward facility. West Zone has not implemented this facility due to technical limitations.
As per the latest information from BSNL sources,
accumulation of unutilized data and data carry forward facility is available for all prepaid mobile customers of BSNL except those from West Zone. West Zone Circles include – Maharashtra, Gujarat, Madhyapradesh and Chattisgarh.
Sl No
BSNL Telecom Zone
Availability of Prepaid 3G/2G Data Accumulation / Carry forward facility
1
North Zone
Haryana, Punjab, UP(West), UP(East), Himachal Pradesh, Rajasthan, Jammu & Kashmir
Available
2
South Zone
Andhra Pradesh, Karnataka, Kerala, Tamilnadu
Available
3
West Zone
Maharashtra, Madhya Pradesh, Chattisgarh, Gujarat
Not Available
4
East Zone
Kolkata, Orissa, Bihar, West Bengal, Adman Nicobar, Assam, Jharkhand, North East – I & II
Available
What is data accumulation and carry forward facility of unutilized data ?


Case 1
It is important to note that, accumulation of Data STVs of different denominations is not possible. Only Data STVs of same MRP will be accumulated.


Case 2
In the above case, if
Customer X activates data STV of Rs 68/- allowing him to use 1 GB data with validity of 7 days. If X uses only 700 MB data and activates another data STV of MRP Rs 57/- (having 30 days validity) on say 6th day, he may not get his unused data (300MB) carried forward with the new data STV 57 for the next 30 days.
In such cases, Customer will get two different data STV accounts having different validity periods. When the customer is using mobile data, his / her data usage will be debited from that account whose validity will expire first.
In the above example, if a customer activates Data STV 68 and Data STV 57 together, his / her data usage will be initially debited from Data STV68. Data will be debited from STV 57 only after the expiry of Data STV68.
See latest 3G/2G Data Offers from BSNL below:
Dear readers, we hope this article was helpful to clarify the doubts regarding BSNL's
Unused Data Carry forward facility. Please share your views and opinions about this facility via comments with us.