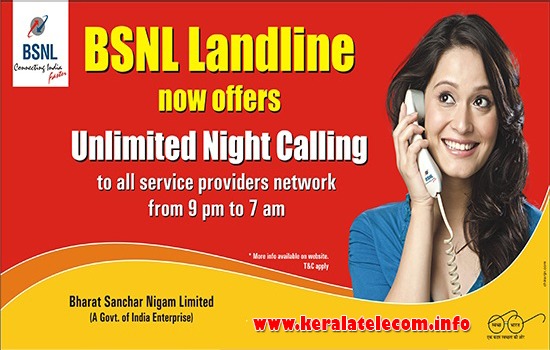 BSNL Chairman and Managing Director Anupam Shrivastava told –
"Initial feedback we have is that there is an increase of 35% in new connection bookings after BSNL launched unlimited free calling scheme during night. With this and modernisation of exchanges, I can see growth coming back in landline business".
BSNL introduced Unlimited Free Night Calling S
cheme in May 2015, that allows making calls free of cost to any operator, including mobile phones, anywhere in the country between 9 PM and 7 AM and covers all types of connections.
BSNL is investing around Rs 2,000 Crore to upgrade it's digital telephone exchanges to next generation IP based exchanges to deliver modern services like video Calling, ultra high speed broadband connections, video conferencing etc. through landline phones.
"The project will be completed in two years. We will use landline phones to boost our broadband services as well," Shrivastava said.
"Our performance has been in line with market despite legacy issues. BSNL wages outgo is about 55% of total revenue where we need to improve. BSNL was market leader in 2006 but we could not procure equipment when market was growing. But that is past and we are now moving ahead positively," he said.
BSNL is also waiting for government approval to hive off its mobile tower business into a separate company for its optimum utilisation.
"We expect to hear very soon from government on it. I believe government has floated a cabinet note on it," he said.
See more details about the impact of BSNL's Unlimited Free Night Calling Scheme in Kerala Circle below:
Customers may check the eligibility of Free Night Calling Scheme below:
People may book BSNL Landline and Broadband Services through Online Portal. See it's details below:
Dear readers, please share your views and opinions about the newly launched Unlimited Free Night Calling Scheme by BSNL via comments with us.