As we reported earlier, BSNL is all set to upgrade its landline telephone exchanges to IP based Next Generation Network (NGN) across India. BSNL NGN (Next Generation Network) is IP based, state of the art new telephone technology that handles multiple types of traffic (such as Voice, Data and Multimedia).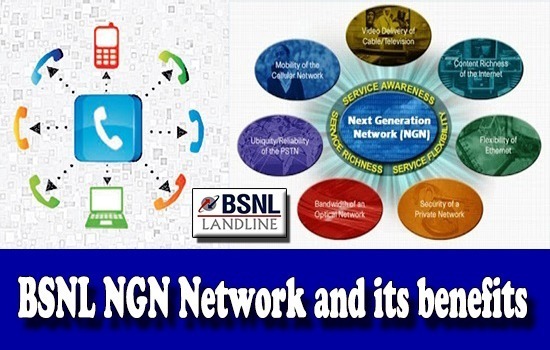 Key features of BSNL NGN Network are:
Convergent Multimedia services which provides Voice, Broadband Internet and Video calling to all customers.

NGN can deliver various use friendly value added services like video call, close user group, video conferencing etc.
Delivering Value Added Services
NGN Network will be able to set the platform to enhance the existing telephone network capacity to launch any IP based new services to subscribers such as PAN India Centrex (closed user group or CUG), Multimedia Video Conference, Video Call and Fixed Mobile Conversion services etc.
Key Service Offering
Convergent Conference to unleash your conferencing value. Convergent Conference solution enables NGN customers and non-NGN customers to use different terminals to join the same conference. The convergent conference solution supports multiple accesses, such as Voice accesse, HD video access, Data access, Web access and Telepresence services.
Furthermore, it can interwork with traditional conference systems such as the H.323 legacy devices or Cisco's conference system. One NGN user can set up conference with 30 participants. Conference can be available under both prepaid and postpaid payment mode.
Convergent IP Centrex (Closed User Group or CUG)
A user can setup a close user group across the country with both fixed line and mobile users of BSNL as members of the group. The users include both NGN and non-NGN customers of BSNL. This facility can be availed after paying a nominal charge per month per user of IP Centrex facility.
Fixed Mobile Conversion Service (FMC)
NGN will also offer FMC services between mobile (GSM Network), IMS Fixed (Landlie) and IMS Wi-Fi network with different public identity (number).

NGN fixed line customer can receive incoming calls to a defined mobile and also to another fixed (NGN or non NGN) telephone. This means customer do not miss any call at any time and remain in touch with the world.
Prepaid Services
NGN will also offer Fixed line prepaid services on the similar lines as BSNL offer prepaid services to it's mobile customers. this means you do not have to pay fixed monthly charges for your fixed line telephone but can recharge your NGN fxed line telephone as and when you require.
See more details about BSNL NGN (Next Generation Network) below:
Dear readers, please share your views and opinions about BSNL Next Generation (NGN) Network via comments with us.