State run PSU and the major contributor in Digital India project – Bharat Sanchar Nigam Limited (BSNL) has announced the launch of New Free Public WiFi Hotspots and 3G/2G Mobile Towers across India during the Digital India Week (July 1, 2015 – July 7, 2015).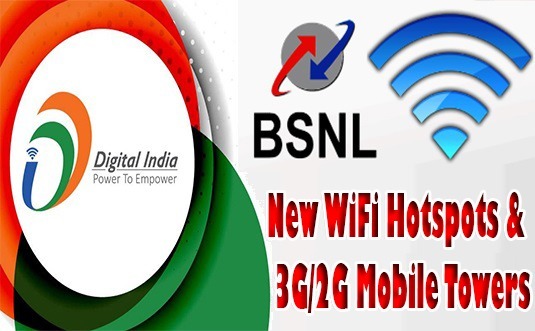 BSNL is celebrating
Digital India
Week by organising several programs across all telecom circles across India which also includes the inauguration of
4G level

Public WiFi services and New 3G/2G Mobile Towers at various locations across India.
In Kerala Circle, BSNL will be lanching Free Public WiFi services in Kochi and Kozhikode. As we reported earlier, high speed WiFi internet services will be available in 10 major locations in Kochi. It includes – Corporation Office, Kaloor Bus Stand, High Court, Subhash Park, Edapally Junction, Marine Drive, Mattancherry, Fort Kochi, District Court and Durbar Hall.
In Kozhikode, BSNL will be launching Free WiFi services in Corporation Office, Beach Road and Civil Station.
BSNL 4G level Public WiFi Hotspot Locations to be launched during Digital India Week (01-07-2015 to 07-07-2015)
Telecom Circle (State)
SSA (City)
WiFi Location (Area)
Andhrapradesh
Visakhapatnam
Kailasagiri
Vuda Park
Spencer Beach Road
Rajiv Smriti Bhavan
YMCA, Beach Road
R K Mission Libraray
Narsapur
Narsapur Bus Stand
Kovvuru
Kovvuru Bus Stand
Rajamundry
Khambala Tank.
Gandhi Park
Saraswati Ghat
GMTD BSNL Office
Gemini Ground
Arts College Ground
Womens College Ground
RTC Bus Stand
Andhrapradesh (Telangana)
Hyderabad
Pavani Avenue, Quadgen Office
CM Camp Office
Chhattisgarh
Raipur
Anupam Garden
Garden Nagar Nigam
Karnataka
Bangalore
1 MG Mall
Hampi
HampiTemple
Kerala
Kochi
Corporation Office
Kaloor Bus Stand
High Court
Subhash Park
Edapally Junction
Marine Drive
Mattancheri
Fort Kochi
District Court
Durbar Hall
Kozhikode
Corporation Office
Beach Road -1, Kozhikode
Civil Station/Colletcor Office
Madhyapradesh
Khajuraho
KhajurahoTemple
Bhopal
JP Hospital
People Dental College
Satpura Bhavan
Vindhyachal Bhavan
RGPV Univcristy
Phanda
Phanda Village
Maharashtra
Nashik
Trimbak BSNL Exchange
Sadhugram Medie Center
Laxminarayanan Temple
Ramkund Media Center
Amrutkhunj Swamisamarth
Kushawat
Odisha
PURI
PURI Jagannath Temple
Konarak(ASI)
Konarak Temple
Tamilnadu
Thanjavur (ASI)
Brihadeshwar Temple
Pondicherry
Le Cafe
Secreatriate
Boathouse
UP (East)
Sarnath (ASI)
Dhammekh Stupa at Sarnath
In addition, BSNL has also announced the launch of New 3G/2G Mobile Towers across all telecom circles during the Digital India Week. As we reported earlier, BSNL Kerala Circe has announced it's 3G expansion plan by adding around 2000 new 3G towers. See it's details below:
See latest BSNL WiFi Tariff Plans and Offers below:
Dear readers, please share your views and opinions about Digital India Week celebrations by BSNL via comments with us.