Bharat Sanchar Nigam Limited (BSNL) has announced the launch of New CUG Mobile Plan
exclusive
for
Enterprise / Corporate Customers across India. The new postpaid mobile plan
with
Unlimited Free Calls between members is priced at Rs 199.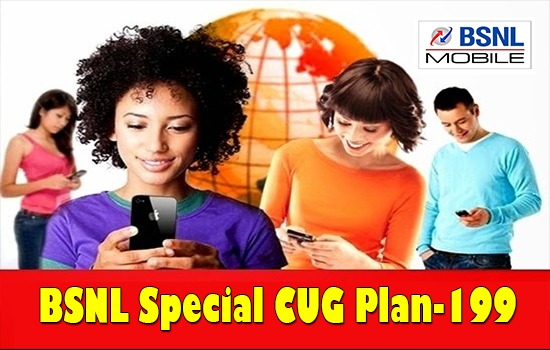 In addition to Unlimited Free Calls among CUG members, the plan also offers free calls worth Rs 149 + 200 MB Free 3G/2G Data + 200 Free Local SMS which can be used from the home network every month.
As per reports, after the launch of Free National Roaming for it's customers across India, BSNL is receiving large number of Port In requests from business groups. To grab this golden opportuninty, BSNL Corporate office has decided to launch New CUG Mobile Plan 199 exclusive for
Enterprise / Corporate Customers.
Features of BSNL CUG Mobile Plan -199
Sl
Particulars of BSNL CUG Mobile Plan 199 exclusive for Enterprise / Corporate Customers
Charges/Freebies
1
Registration and Activation Amount
Nil
2
Security Deposit in Rs
Nil
3
Fixed Monthly Charges in Rs
199
4
Monthly Free Calls ( on net or off net or both) usage worth Rs
149
5
Monthly Free Data Usage in Home LSA
200 MB
6
Free Number of SMS / Month
200 Local SMS
7
Call Charges
Pulse Rate for Local, STD & National Roaming Call
60 Sec
Within CUG
FREE
Local Calls (on net)
30 paise/Min
Local Calls (off net)
50 paise/Min
STD Calls (on net & off net)
60 paise/Min
ISD Calls
Not Allowed
Out Going Call charges while roaming (Local/STD)
60 paise/Min
8
Data Usage Charges
Data usage charges (from home LSA & National Roaming)
0.25paise/10KB
9
SMS Charges (max 160 characters)
Local SMS Charges
30 paise/SMS
National SMS Charges
50 paise/SMS
International SMS Charges
Rs 5 / SMS
10
SMS Charges (While roaming)
Incoming / Outgoing SMS within CUG
FREE
Incoming SMS from any Network
FREE
Outgoing SMS to any Network
80 paise/SMS
11
Group Size
Minimum 30
12
CUG / VPN Charges
FREE
All Other Tariff as per Postpaid Mobile Plan 99
All the calls within CUG circle will be free. All the local calls on BSNL network will be charged at 30 paisa/minute and on any other network at 50 paisa/minute. STD calls will cost 60 paisa/minute. However, ISD facility is not available for members in this special CUG plan.
BSNL has also given the advantage of leveraged roaming rates to all the customers. Users within CUG will not be charged anything for receiving or sending SMS while roaming. The only condition that BSNL has implied is the size of CUG circle. The benefits mentioned above will only apply to CUG circles consisting a minimum of 30 members.
Dear readers, please share your views and opinions about this latest CUG Mobile Plan -199 by BSNL via comments with us.