State run PSU and the most trusted brand in telecom – Bharat Sanchar Nigam Limited (BSNL) has launched 'BSNL BUZZ' – a Next Generation Cell Broadcast Services in partnership with Celltick – a global leader in mobile marketing. BSNL Buzz will provide location-based enhanced services to BSNL Mobile customers.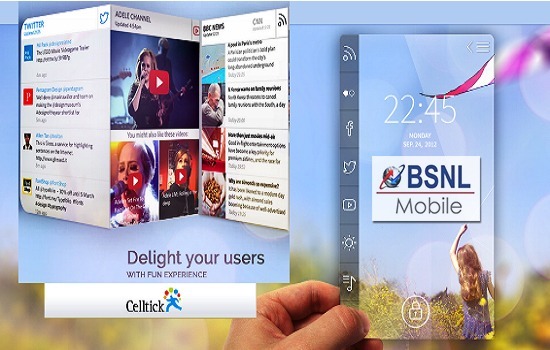 Under this service,
BSNL will provide a fully managed high-value interactive service on the home screen of BSNL's 77.2 million mobile subscribers based on its patented LiveScreen platform.
With BSNL BUZZ, the PSU will provide a variety of interactive and easy to use services such as content, news, contests, subscription packs, coupons and advertising.
The service will also deliver location-based information services in 7 languages – Hindi, English, Bengali, Tamil, Malayalam, Kannada and Telegu. The service will allow BSNL Mobile to reach its consumers in a cost-effective, non-intrusive and friendly manner. The BSNL BUZZ app will be embedded in every BSNL Mobile sim card within the network enabling interactive cell broadcast.
BSNL BUZZ, has two distinct services enabled by cell broadcast – Cell Information and a LiveScreen based easy to use mobile marketing service. The cell information service provides a non-interactive messaging service to millions of BSNL users communicating BSNL service offerings, social awareness messaging and citizen alerts.
The Celltick LiveScreen based service is an interactive messaging service providing users an easy way to get content and services in local languages and script that is personalized to the users. The service is DND compliant and provides users with simple point and click navigation.
This service can reach large number of people simultaneously even in case of network congestion. Therefore it is an idle tool for communicating with masses in case of disaster.
"We are delighted to partner with Celltick and introduce a mass market service that delivers content and services to the mobile home screen of our customers using a simple interactive medium. This partnership enable us to realize our vision of delivering high value, easy to access services and provide real and substantial benefits further enhancing the experience of BSNL Mobile's subscribers", said Mr. Anupam Shrivastava, Chairman & Managing Director, BSNL.
Launching the service, Minister of Communication & IT, Shri Ravi Shankar Prasad said, this service will enable BSNL to reach a customer even in case of emergency and network congestion. Even a not so literate customer can interact and use the value added services easily. This service will help in quick dissemination of information to masses and greater adoption of high value services.
"We are excited that BSNL – India's leading telecom operator has chosen to partner with us. We look forward to working with them and enabling them to execute against their vision in providing value to their customers. Our services based on LiveScreen have been extremely successful with consumers and we are glad to offer a tailored service for BSNL. We are confident that our vast experience and successful track record will ensure success to this partnership." said Ronen Daniel, CEO, Celltick.
See More details about BSNL BUZZ below:
Celltick powers billions of mobile-initiated commerce transactions for virtual and physical goods serving more than 150 million active consumers across 25 countries.
Dear readers, please share your views and opinions about this latest Value Added Service by BSNL via comments with us.