Bharat Sanchar Nigam Limited (BSNL) decided to offer FTTH ONT (FTTH Modem) alongwith ADSL WiFi Modem to the customers who wants to avail WiFi facility on FTTH Broadband connections. BSNL will be offering WiFi Modem and FTTH ONT on rental basis at Rs 200/- per month.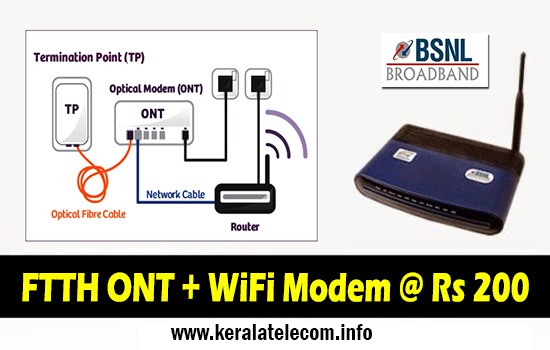 Currently BSNL provides Fiber Broadband Services (FTTH) using Optical Modem (ONT) which does not have WiFi facility. BSNL has decided to introduce this scheme as there was huge demand for WiFi Modem among FTTH customers of BSNL. The scheme will be available from 1st August 2015 onwards across India.
The refundable security deposit (for FTTH ONT alongwith ADSL WiFi modem on rental basis) shall
be Rs. 1500/-.
The customers who do not require WiFi facility on FTTH Broadband connections, FTTH ONT on rent
(alongwith refundable security deposit) shall be available as per existing tariffs.
Existing One Time charges / Initial Charges for BSNL FTTH (Fiber Broadband) Services
Sl No
Particulars
Tariff in Rupees
1
Activation/Installation charges
500
2
ONT Security Deposit *
1000 (Refundable)#
3
ONT Charges (When taken on Rent) in Rs
A) ONT Charges per month
150
B) ONT Charges per annum
1800
4
Outright Purchase of ONT MRP. Charges in Rs. (Inclusive of VAT/Sales Tax & warranty/AMC upto 5 years )##
A) ONT Configuration-A Type
12000
B) ONT Configuration-B Type
14500
* Security Deposit: A refundable Security Deposit is to be taken for the ONT Type A or Type B which is to be refunded on return of the ONT in working condition.
# 1. Security Deposit shall be Rs 500 if the subscriber Pays For plan Charges of 6 months in advance
2. in case of annual payment option security deposit is completely waived off
## Customers can use their own purchased ONT from market,subject to interoperability with BSNL OLT
See Latest BSNL Fiber Broadband (FTTH) Tariff Plans below:
See other news about BSNL Fiber Broadband Services also:
Dear readers, please share your views and opinions about this latest offer from BSNL via comments with us. How many of you are using BSNL Fiber Broadband Services?