State run PSU Bharat Sanchar Nigam Limited (BSNL) launched New Tariff Plans for Centrex Facility for Intra SDCA Category. BSNL Centrex – Landline Group Plan, connects all the telephone numbers of old and new into one group, connecting each number with unlimited free calling at any time.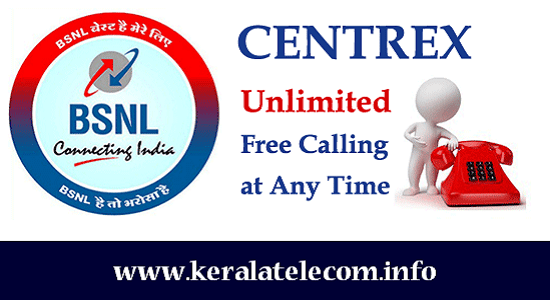 The newly announced tariff plans are available with effect from 1st June 2015 onwards on PAN India basis. BSNL offers Centrex Facility for it's Landline Customers across India, which is a central office based communication service integrates all your multi-located telephone lines into a single group without any additional equipment (like EPABX) at customer premises.
Details of New Tariff Plans for BSNL Centrex Facility for Intra SDCA Category from 01-06-2015
Tariff for Centrex Facility for Intra SDCA Category
Number of Customer in Group
Monthly Plan Charges Inra SDCA (in Rs)
Less than 25
50
Equal to or More than 25
60
The above Tariff for Centrex Facility for Intra SDCA Category will be implemented w.e.f.01.06.2015 on PAN India basis
The Centrex facility is also available on WLL (Fixed) and WLL (Mobile) also subject to technical feasibility. The tariff shall be same as applicable on fixed line.
Recently, BSNL revised the tariff plans for Centrex Facility for Inter Circle and Intra Circle Categories. The revised plans will be available for customers across India, after the commissioning of NGN Network of BSNL. See it's details below:
Centrex facility is extremely useful for enterprise customers having their branches spread across different locations. After the commissioning of NGN, customers may also enjoy additional features like Video Conferencing, Video Calling, Closed User Group (CUG) etc. See more details about BSNL NGN Network below:
Dear readers, please share your views and opinions about this latest Tariff Plans of Centrex Facility by BSNL via comments with us.