As per latest reports, the Honorable Prime Minister of lndia Sri Narendra Modi will be inaugurating the NOFN (National Optical Fiber Network) under Digital lndia program on the 1st of July 2015. The NOFN project aims to provide high speed broadband connectivity to 2.50 lakh gram panchayats in India by December 2016. NOFN is the largest rural connectivity project of its kind in the world.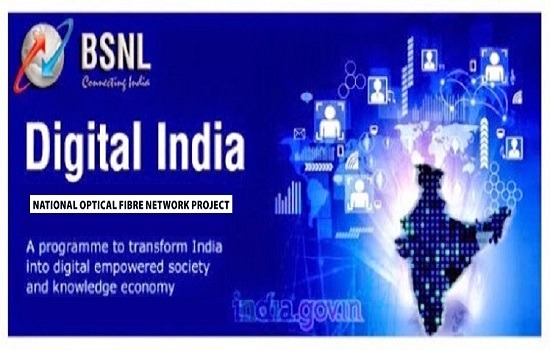 In the first phase, service will be launching in Kerala (Kottayam, Thrivananthapuram, Ernakulam, Thrissur & Malappuram), Karnataka (Bangalore Urban, Mandya, Chamrajanagar & Hassan), Chandigarh, Bihar (Kishanganj), Uttarakhind (Haridwar), Chhattisgarh (Balarampur), Madhya Pradesh (lndore), Rajastan (Ajmer), UP West (Noida) and Haryana (Faridabad).
30 Gram panchayats
from Kerala circle
have been
chosen for the inauguration.
As per latest information, BSNL will be completing OFC works by 26th June 2015.
Department of Telecom (DoT) formed BBNL (Bharat Broadband Network Limited) for implementing this project. Bharat Broadband Network Limited, is a Telecom infrastructure provider, set up by the government of India for the establishment, management and operation of National Optical Fibre Network.
NOFN, which is being funded by the Universal Service Obligation Fund (USOF), Department of Telecom, Ministry of Communications & IT, Govt. of India, is envisaged to provide non- discriminatory access to bridge the digital divide across rural India.
The project is being implemented by three central PSUs (CPSUs) namely BSNL, PGCIL and Railtel. The Government of India entity, Bharat Broad Band Nigam Limited (BBNL), will centrally manage the project through a high capacity Network Management System being developed by C-DOT. A key feature of the project is that the GPON equipment used in the project has been indigenously designed and developed by C-DOT and manufactured domestically.
Major highlights of National Optical Fiber Project (NOFN) are:
World's largest rural broadband connectivity project through optical fiber network
2.5 lakh Gram Panchayats in India to be connected on optical fiber network
Minimum 100 Mbps bandwidth at each Gram Panchayat
NOFN to be Non-discriminatory Access infrastructure for all Service Providers
Approx 6 lakh Km new incremental optical fibre cable to be laid
Indigenous equipment design and manufacturing under "Make in India"
Optimizing the usage of existing resources Optical fiber (dark fiber)
GPON technology is being used for the first time in a geographically widespread country such as India
Geographical Information system (GIS) to map with planning, designing and marketing of the services.
Centrally located High Capacity Network operation Centre (NOC) for network management (NMS) to monitor and ensure the up time and provisioning.
Wi-Fi connectivity at each ONT to ensure spread
The establishment of NOFN will open up new avenues for access service providers like mobile operators, cable TV operators etc. to launch next generation services and spur creation of local employment opportunities encompassing e-commerce and IT outsourcing, as well as e-banking, e-health and e-education.
Digital India programme aims to transform India into a digitally empowered society and knowledge economy. The provision of broadband connectivity to every citizen is one of the key objectives of Digital India.