State run PSU Bharat Sanchar Nigam Limited (BSNL) is on a revival stage as the company has recently announced two attractive and customer friendly schemes for it's customers across India. The first one was the Unlimited Free Night Calling Scheme for it's Landline / Broadband customers and the second one was the Free National Roaming Scheme fot it's Prepaid and Postpaid Mobile customers across India.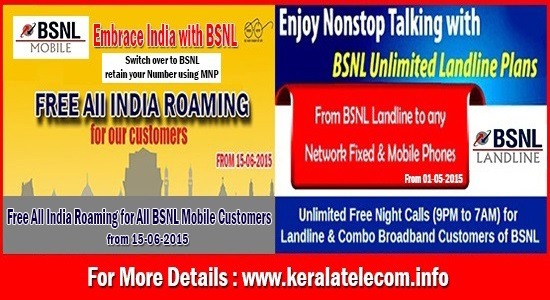 BSNL's 'tempting' scheme – unlimited free calls from its landline at night to any landline or mobile network across India – seems to have helped it regain lost ground in the landline market.
Consequent to the launch of the scheme on May 1, the number of new landline connections had seen a rise.
The scheme is available across all telecom circle in India.
It is perhaps for the first time since the inception of BSNL that free unlimited calls have been offered to its landline customers.
Customers can check whether their Landline/Broadband plan is applicable for Unlimited Free Night Calling Offer below:
The response to the scheme is good and new connections went up reasonably. The scheme is available for almost all landline / broadband plans. People making STD calls opted for new connections since STD calls were also free between 9 p.m. and 7 a.m.
The New All India Roaming Scheme which started today, 15th of June 2015,

also got excellent response from Mobile customers all over India. The Free Roaming Scheme will be benefited by crores of Mobile Customers across the nation.
The scheme has already made an impact to customers in boarder areas
. Residents of the border districts are frequent travellers to the neighbouring states and hence the free roaming has become a major hit in these area.
Now BSNL mobile customers will not need to carry multiple SIMs and handsets during roaming. They are now free to talk as long as they want without worrying of any charges during incoming calls. This will specially benefit the people having transferable jobs and student community who have to change their mobile numbers very frequently owing to transfer liability.
BSNL already issued clarification regarding it's Fre
e Roaming Scheme. See it's details below:
Dear readers, please share your views and opinions about these excellent, customer friendly offer from BSNL via comments with us. Whether these schemes are enough for the PSU to reagin it's market share?