India's Largest Landline Service provider BSNL offers the most economical and attractive high speed Broadband tariff plans for it's customers across India. BSNL is the only telecom services provider, offering state of the art telecom services to the people of India in both rural and urban areas.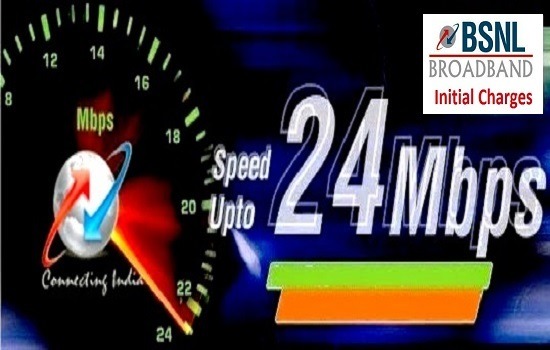 The initial charges for New Customers subscribing to BSNL Broadband services are also very cheap and affordable. Initialcharges include – Installation Charges, Security Deposit for Modem (if modem is taken on rent) and Modem Charges. Initial charges are common to BSNL Broadband customers anywhere in India.
BSNL Landline Broadband – Initial Charges for New Customers / Connections

1

Installation Charges
Rs 250 (If modem taken from BSNL / Self arranged)
2
Refundable Security Deposit of Modem, if Modem is taken on Rent
Rs 500
3
Shifting Charges
Nil
4
Change of Plan Charges
Nil
BSNL Landline Broadband – Modem Charges
Modem Type
ADSL Basic(Non-Wifi)
ADSL Wifi
VDSL WiFi
Modem Sale Price (one time Charges) *
Rs 1400
Rs 1500
Rs 3250
Monthly Rental if Modem is taken on Rent
Rs 70
Rs 110
Rs 150
* Inclusive of VAT/Sale Tax and AMC for five years
WiFi: ADSL / VDSL modems with WiFi are suitable for broadband access through wireless i.e. within the home or office.
VDSL: VDSL (Very high Speed Digital Subscriber line) modems are used for accessing very high speed Broadband of 16 Mbps and above.VDSL modem can be used upto a distance of 1 Km from nearest BSNL Telephone Exchange
In addition to the above charges, One Month Plan charges will also be collected as Plan Security Deposit for all Unlimited Broadband Plan Customers.
BSNL offers a wide variety of Broadband Plans – both limited and unlimited usage from which customers may select the suitable plan.
See latest BSNL Broadband Tariff Plans below:
BSNL also launched Online Portal for it's customers across India to Register / Book New Landline, Broadband Services Online. See it's details below:
If you are booking the broadband / Landline connection at the time of promotional offers you may not give installation charges.
Dear readers, how many of your are using BSNL Broadband Services? Please share your feedback about the broadband internet services offered by BSNL as compared to other operators in your region.