BSNL Kerala Telecom Circle has decided to change it's most popular Voice calling STV – Recharge 135 (STV VOICE135) to Per Minute billing from 1st July 2015 onwards. As per the latest information, the freebies of Voice STV 135 will be 300 Minutes (instead of 28,000 seconds) with a validity of 28 days.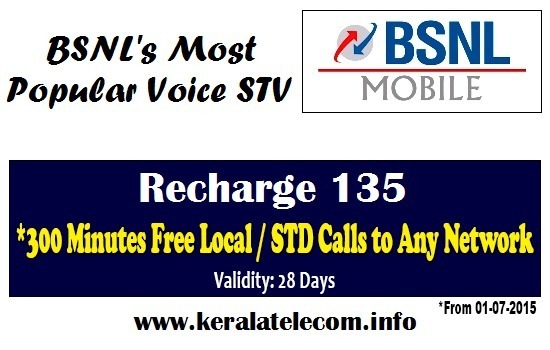 BSNL implemented Voice STV 135 in per minute billing pattern in all other telecom circles except Kerala. To follow a uniform pattern across all telecom circles, BSNL Corporate Office has instructed to implement per minute billing in all BSNL telecom circles including Kerala.
In February 2015, a
fter completing the IN migration , BSNL Kerala Circle issued a clarification regarding the Billing of Voice STV 135. As per this clarification, BSNL Kerala Circle taken special sanction from Corporate Office to continue the Per Second Billing for Voice STV 135. See it's details below:
How this will affect customers?
Now, BSNL Customers can make a maximum of 300 calls with Voice STV 135. If you are making a voice call having 30 seconds duration, One Minute will be deducted from the freebies of STV VOICE135. The balance seconds left in your existing Voice STV 135 account will also be converted to Per Minute billing pattern from 01-07-2015.


Alternatives available to customers


Voice STV 135 is the most popular Voice Calling Offer in Kerala having largest subscriber base. Hence, BSNL Kerala Circle already launched two attractive
New
Per Second Billing Voice STVs – Recharge 149 & Recharge 449 for it's customers.
Recharge 149 (STV VOICE149):

20,400 Sec Local / STD Calls to Any Network with a Validity of 30 Days
Recharge 449 (STV VOICE149):

62,000 Sec Local / STD Calls to Any Network with a Validity of 90 Days
Customers may subscribe to any of the above mentioned Voice STVs – Recharge 149 or Recharge 449 to enjoy Per Second tariff.
Activation Procedure of VOICE STV 149 & VOICE STV 449
Customers may recharge (online recharge / flexy recharge) their number with the desired denomination (either Rs 149 or Rs 449).
SMS activation method: Customers who has got sufficient prepaid account balance may send the required SMS Keyword to 123.
To activate Voice STV 149, send STV space VOICE149 to 123.
To activate Voice STV 449, send STV space VOICE449 to 123
Note: Accumulation of Voice STVs of different denominations is not possible. Only STVs of same MRP will be accumulated. It means, a customer who has activated new per second billing Voice STV (149 or 449) will not get the unused voice balance left in Voice STV 135.


See other Local / STD Calling STVs from BSNL Kerala Circle below:


Dear readers, how many of you were already subscribed to Voice STV 135? Please comment your opinion about this tariff revision by BSNL. Whether the Newly introduced Per Second Billing STVs are attractive and economical?