State run telecom operator, Bharat Sanchar Nigam Limited (BSNL) has issued warning about 'Missed Call Fraud' from unknown International (ISD) Numbers to all it's Prepaid and Postpaid Mobile Customers across India. This is being called the 'One Ring Scam' or 'Wangiri Calls'. Customers are advised not to respond to missed calls from unknown numbers with prefix other than "+91".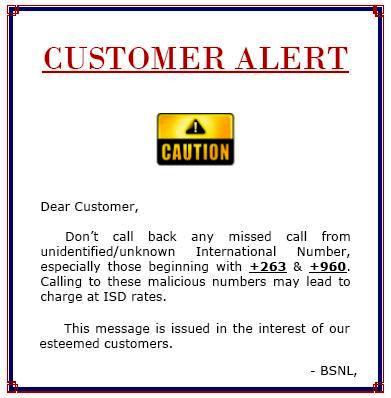 To prevent account balance deduction, BSNL Mobile customers who does not require ISD facility may deactivate the service by sending SMS – DEACT ISD to 53733.
Mobile customers have been receiving missed calls from unidentified / unknown International Number, especially those beginning with +263 & +960 etc. Customers should think twice before calling back to these
unknown International (ISD) Numbers
.
BSNL already received complaints from customers about Missed call fraud
wherein people get missed calls from malicious international numbers like +263xxxx & +960xxxxx and when the user calls back they are charged a huge sum like Rs 45 to Rs 50 per minute for the call.
To eliminate
'One Ring Scam' or Wangiri Calls, t
he Telecom Regulatory Authority of India (TRAI) issued a directive on September 2012, to all operators to ensure that NO ISD facility is activated on prepaid SIM without the explicit consent of the consumer.
As per this directive, BSNL already deactivated the ISD facility of it's Prepaid Mobile customers.
Customers who need ISD out going facility may activate the same by sending SMS ACT ISD to 53733.
Dear readers, please share your views and opinions about this latest Missed Call Fraud via comments with us.