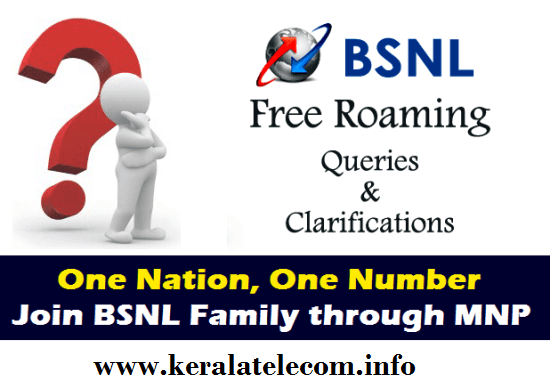 After the announcement of Free Roaming offer by BSNL, certain doubts and confusions generated among mobile customers about this scheme and it's applicability. BSNL announced this offer just before the launch of Full MNP and it is like a dream of 'ONE NATION
ONE NUMBER' come true.
On announcing this offer, IT and Telecom Minister Ravi Shankar Prasad said – "As always, BSNL has taken lead to announce yet another landmark decision in the larger interest of public which will benefit
crores of existing as well as new subscribers.
Now BSNL mobile customers will not need to carry multiple SIMs and handsets during roaming.
They are now free to talk as long as they want without
worrying of any charges during incoming calls. In fact it is like a
dream of

'ONE NATION ONE NUMBER'

come true.
This will specially benefit the people having
transferable jobs and student community who have to change their mobile
numbers very frequently owing to transfer liability."
To clarify the doubts and confusions among Prepaid and Postpaid Mobile Customers, BSNL has issued clarification regarding it's Free National Roaming Scheme as follows:
1. BSNL Free National Roaming is a Permanent Offer or a Promotional offer?
At present, BSNL announced Free National Roaming (free incoming voice call facility while in national roaming) as a promotional offer till 15-06-2018
on PAN India basis

.
2. Is Free National Roaming is applicable to all Prepaid and Postpaid Mobile Customers?
Yes, BSNL Free National Roaming will be available to all Prepaid and Postpaid Mobile customers across India.
3. Whether Free Roaming is applicable across India or in for some areas only?
BSNL Free Roaming available across all over India including Mumbai & Delhi (service areas of MTNL).
4. What are the Outgoing call charges in Roaming? Whether BSNL home area tariff plans applicable or not?


lrrespective of whether subscriber has per minute plan or per second plan, while roaming all outgoing call charges will be as per the ceiling provided by TRAI. i.e., the outgoing local calls are @ 80p /minute and STD calls are @ Rs. 1. 15/ minute.
5. Whether all Voice STVs will work in Free Roaming across India?

No, Voice STVs will not work in Roaming areas. (DATA and SMS STVs will work anywhere in India)
6. Whether BSNL Mobile customers need to recharge with any Special Tariff Voucher / Plan to avail Free Roaming?

No, BSNL Mobile Customers need not recharge with any BSNL Roam Free STV or Roam Free Plan. It will be available as default feature for all prepaid and postpaid mobile customers.
Free incoming voice calls while in national roaming will be implemented by creating Prepaid STV / Postpaid Add-on of Rs. 101 (+/-3) under BSNLmobile services. STVs/Add-on plans will be automatically added to all the BSNL mobile customers account notionally at Free of cost (without any additional charge) initially for a period of one year as a goodwill gesture.
7. Is there any Roaming charges for a customer, who receives ISD call while in Roaming?
No Charges for a customer who receives ISD Call while in Roaming.
8. Whether the existing Roaming Free STVs / Plans will be available after 15.06.2018?

No, existing BSNL Roaming Free STVs (5,33,67,89) under prepaid mobile services and Add-on plan with FMC of Rs 61 under postpaid mobile services will not be available from 15-06-2018.
9. A customer already recharged with a Roaming STV having certain validity, and after discontinuing roaming STVs from 15.06.2015, whether he is eligible for Free Roaming?
Yes, he is also eligible for Free National Roaming without STVs.
10. After One Year, Can Subscribers will recharge with any Roaming STVs?
At present BSNL Offers Free Roaming for all Mobile Users for One Year, after that, this may be extended / discontinued as per Govt Decisions/policy.
Speaking on the occassion, BSNL CMD Anupam Shrivastava said – "In the past BSNL were the first movers in many customer beneficial initiatives. In 2002 when BSNL entered into mobile services,

BSNL started free incoming calls for the first time within License Service Area (State).

Prior to that, the customers had to pay for incoming calls also, at the rate as high as Rs.16/- per minute. Today the tariff in Indian Telecom Industry in India is the lowest in the world, This credit also goes to BSNL because before entry of BSNL in mobile telephony, the call rates charged by private operators were as high as Rs.24/- per minute."
Dear readers, please share your views and opinions about this excellent offer by BSNL via comments with us.