M/s Celltick Mobile Media (India) Pvt. Limited had signed an agreement with BSNL on 1st Sep, 2014 for integration of Cell Broadcast System with BSNL Network for GSM subscribers across India. Celltick's Live Screen platform branded as 'BSNL BUZZ' delivers an enhanced, interactive and engaging experience to mobile consumers.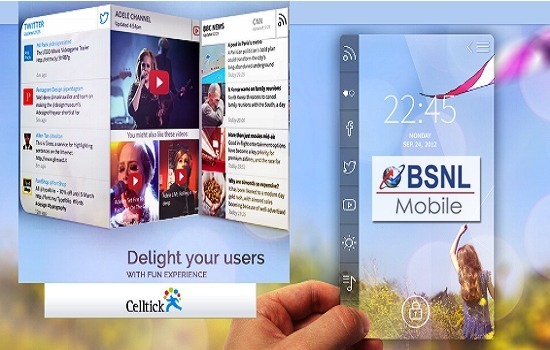 As per latest information, BSNL is preparing for the launch of BSNL BUZZ Services to customers across India. Live Screen's platform enables BSNL to offer its consumers unique high-value content and coupons for physical goods that can be redeemed in store. With this partnership, BSNL can reach out to its subscribers in the most effective manner based on location and user behavior.
What is Cell Broadcast Services (CBS), how it works?
Cell Broadcast is capable of broadcasting one single message to reach all mobile handsets in an area as small as one radio cell and as big as the entire country. This service, is available to the customers who have activated the Cell broadcast (CB) channel in their handsets.
It's broadcast is real time and fast. No dependency of Cell broadcast channels for BSNL BUZZ (live screen). Message appears even if cell broadcast channel is off (Customer should have Celltick enabled sim card and should be in idle status at the time of promotion). To get regular cell info messages CB channel should be on.
(Click / Tap to Play the Video)
Cell Broadcast is designed for simultaneous delivery to multiple users in a specified area. It is a one-to-many geographically focused messaging service. Cell Broadcast is not as affected by traffic load; therefore, it may be usable during a disaster when load spikes (mass call events) tend to crash networks.
The capability of mobile handset in utilizing capabilities of CBS is further enhanced by application burnt in SIM (applet) which interact with mobile handset to display not only the broadcast messages but also the customized information in most interactive format. As application resides in SIM, not on phone, simple feature phone is also capable of using the service.
The above capability of service can be used to offer variety of Value Added Services in a non intrusive manner as all the messages are displayed on idle screen and don't interfere with normal calling and messaging.
It is estimated that, a mobile user will look at their phone screens between 120 to 300 times a day. This itself shows the revenue potential of Live Screen Cell Broadcast Services of BSNL.
Dear readers, please share your views and opinions about this latest value added service – BSNL BUZZ – via comments with us.