The latest market research data from Counterpoint Technologies revealed that among smartphone manufacturers, Samsung retained the Number One position with 27.8% share of Indian smartphone shipments in Q1(January-March 2015) of 2015. Smartphone shipments in the Indian market for the first quarter of 2015 rose 21% year-over-year.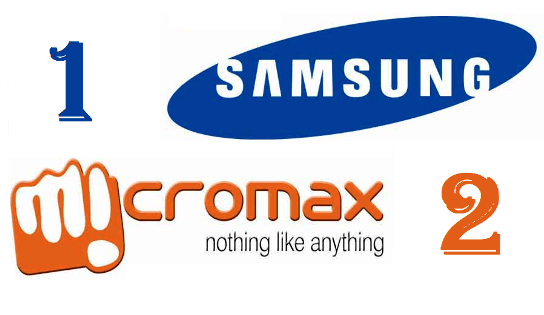 Smartphone shipments constituted 37 percent of the total mobile shipments in India. Samsung

has retained its number one position in the Indian mobile market as well as in
the smartphone market. Samsung had a 18.2 percent share in the overall
mobile market and a 27.8 percent share in the smartphone segment.
Micromax

was
at the second position with 15.3 percent share of the smartphone market
but it was 26 percent less than Q4 2014. Its share in the mobile market
was 12.2 percent which again was 28 percent less than the company's
share in the previous quarter.

Microsoft

was at the number 3 position in terms of mobile shipments but it didn't make it to the top 5 as
far as smartphone shipments are concerned. However, its Lumia 535
enjoyed a high amount of affinity in the country and continues to do so.
Microsoft was followed by Intex and Lava which had 8.7 percent and 8.1 percent share of the Indian mobile market.
Counterpoint also notes that Apple's iPhone shipments remained strong during the quarter due to a strong marketing push and buybacks schemes.
Senior Analyst at Counterpoint, Mr. Tarun Pathak said, "There has been significant push by Indian government for 'Make in India', and it seems like almost every of the top 10 mobile phone player has expressed their intentions toward setting up a manufacturing plant in India. However, we believe the real 'Make in India' developments are still a good 12-18 months away due to the lack of component suppliers' ecosystem. Players like Samsung & Micromax which are already assembling phones in India are well positioned to take advantage of early moves to local manufacturing as compared to other players."
Dear readers, please share your views and opinions about this latest news via comments with us.