Department of Telecommunication (DOT) has amended the National Numbering
Plan 2003 for implementation of Full Mobile Number Portability (FMNP). As per this latest amendment, Mobile phone and landline users anywhere in India can dial STD Mobile numbers without using 0 or +91 as a prefix.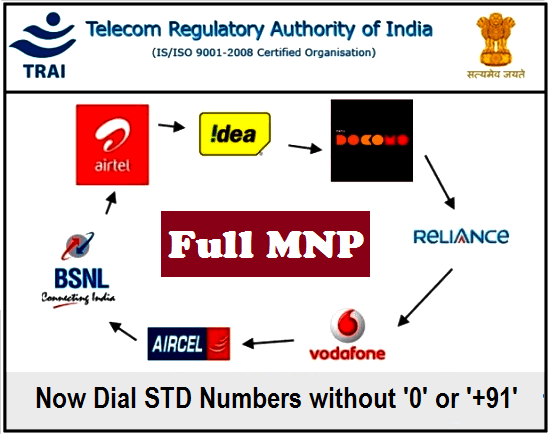 This move constitutes a major step towards achieving full mobile number portability (FMNP),
as there is no distinction between a local and an STD number while making a call. Many leading telecom service providers have started testing their latest hardware and software for implementing Full MNP in their network.
One of the main technical problem of full MNP was STD dialing pattern.
At present, STD numbers can only be dialed by adding either '0' or '+91′ as the prefix. But post full MNP STD and local numbers cannot be
differentiated and should have same dialing pattern.
The latest DOT directive said – "Dialing procedure for intra as well as inter service area Basic to Mobile calls and
Mobile to Mobile calls — The telecom service providers may allow dialing of intra service area
as well as inter service area calls to their subscribers without any prefix and/or by prefixing '0'
and/or by prefixing '+91'. However intra service calls shall mandatorily be allowed without any
prefix, as at present."


Sri. Rajan S Mathews, director general of the Cellular Operators Association of India (COAI), said, "The dropping of 0 and +91 was in order to facilitate timely implementation of nationwide MNP. Without this, it would have taken nine months or so to implement MNP. Now, a small number of customers may have to pay STD charges if not aware of it. However, as the price differential between local and STD charges are not great, customers may find this a small price to pay to enjoy national MNP."
As per the latest deadline set by DoT, full MNP will be implemented in India by July 2015. This will allow mobile subscribers to move from
one mobile network to other in any telecom circles in the country. So
customer can retain his mobile number in any part of the country without
paying for roaming charges.
Dear readers, please share your views and opinions about this latest news via comments with us. Whether Full MNP will eliminate the concept of National Roaming and Roaming Charges?