BSNL launched a new GSM Prepaid Mobile Plan for it's customers across all telecom circles in India. The new plan has been launched as Lifetime Prepaid Plan at lowest plan voucher charges of Rs 8 with per minute pulse rate and automatic validity extension facility after the expiry date.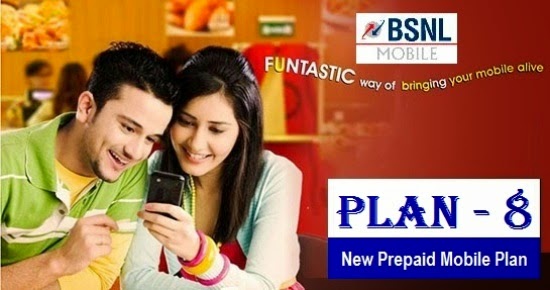 The newly launched plan, 'PLAN – 8′ is for customers who do not get their validity extended before Grace Period 1 (15 days from expiry) due to insufficient Plan Voucher amount in their main account but having a balance of Rs 8 and more in their main account.

In such cases, on the last day of Grace Period 1, after
deduction of Rs 8 from the account balance, the customers will be
migrated to PLAN-8 with 180 days validity.
Features of New Life Time GSM Prepaid Mobile Plan from BSNL (from 25.03.2015)
MRP of Plan voucher (in Rs. Inclusive of Service Tax)
8
Validity (in days)
180
Voice Tariff(Home LSA and National Roaming):-
Local (in Rs / Min.)
1
STD (in Rs / Min.)
1.5
SMS local (in Rs / SMS)
1
SMS national (in Rs / SMS)
1.5
I/C voice call in roaming (in Rs./Min.)
0.75
Data rate (in Rs / 10KB)
0.02
Migration to this plan is not allowed.
All other charges as per "Per Minute" plan
All local calls will be charged at Rs 1/Minute and all
STD calls at Rs 1.5/Minute while the incoming calls in roaming will be
charged at Rs 0.75/Minute. All local SMS will be charged at Rs 1 &
National SMS at Rs 1.5
Migration to this plan is not allowed from any other plan. The users will be allowed to use any kind of Voice, SMS and Mobile Data Special Tariff Vouchers to reduce the mobile rates upto 90% from base tariff.
All the other charges in this new Lifetime Plan will be as per BSNL Per Minute Plan as follows.

This newly introduced BSNL Lifetime Plan, 'PLAN-8' with auto validity extension will be available across all BSNL circles in India.
See other latest offers and news from BSNL below:

This plan is very much helpful for customers who do not have sufficient account balance for validity extension. Out of station customers (NRI) can also retain their mobile number for 180 days by keeping their prepaid account balance above Rs 8.
Dear readers, please share your views and opinions about this new Life Time Prepaid Mobile Plan from BSNL via comments with us.