BSNL offers Centrex
Facility for it's Landline Customers across India, which is a central office based communication service integrates all your multi-located telephone lines (Existing and New) into a single group with more attractive features like Unlimited Free Calling at any time without any additional equipment (like EPABX) at customer premises.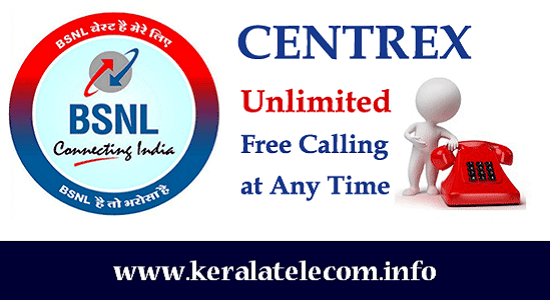 BSNL Centrex – Landline Group Plan, connects all the telephone numbers of old and new into one group, connecting each number with unlimited free calling at any time without any extra registration amount, initial deposit, and installation charges.
Highly cost effective, Free Intra Centrex calls, No worry to select innovative (PBXs) equipment, No risk of obsolescence of technology, No requirement of power supply, No need to waste valuable floor space, No annual maintenance charges, totally flexible are some of the salient features of Centrex facility.
There is no limit for members to join into the same centrex group. The customers who avail this BSNL Centrex facility will be allowed to get free calls as usually according with normal plan along with unlimited free calling between Centrex numbers.
BSNL offers consolidated billing, payment and discount, under the "Corporate Account Holders Scheme" where applicable, may be provided to the groups or organizations covered under the Centrex.
BSNL Centrex Services Tariff Details (Pre-revised Tariff upto 31-05-2014)


| | |
| --- | --- |
| Number of Landlines in Centrex Group | Fixed Monthly Centrex Plan Charges |
| 2 | Rs 50 per Landline |
| 3 | Rs 75 per Landline |
| 4 and above | Rs 100 per Landline |


The following conditions are prescribed for the provision of Centrex Facility:
The individual subscribers seeking centrex facility may not belong to the same group or organization.
The registration amount, initial deposit, monthly rentral, installation charges, etc for Dels under centrex shall be same as normal Del.
The monthly plan charges shall be levied on each Dels covered under Centrex as under:
(A) Centrex facility to Commercially Important Customers / Corporate customers / Multistory complex / Housing Societies etc.
Particular
Fixed Monthly Charges (Rental & Plan Charges)
Upto Rs 200
Greater than Rs 200 and less than or equal to Rs 500
Greater than Rs 500
Size of Centrex Group
Centrex Charges per Landline per Month (in Rs)
5 -15
75
60
0
16 – 50
60
40
0
51 – 100
40
25
0
100 – 500
25
0
0
Greater than 500
0
0
0
(B) Rent free incoming connections:
In addition to above, rent free connection for corporate customers, housing societies, multistory complex etc shall also be provided for the use of incoming calls and making calls to other centrex members subject to fulfillment of following conditions:
| | |
| --- | --- |
| Size of the Centrex Group | Rent Free Incoming Connection |
| 15 – 25 | 01 |
| 26 – 50 | 02 |
| 51 – 100 | 03 |
| For every additional 100 connections | 1 Additional Connection in addition to the above |
The Centrex facility is also available on WLL (Fixed) and WLL (Mobile) also subject to technical feasibility. The tariff shall be same as applicable on fixed line.
BSNL Centrex Facility: Latest Tariff after migrating to NGN (from 01-06-2015 onwards)
Tariff for Centrex Facility
Number of Customers in Centrex Group
Monthly Plan Charges Intra Circle ( in Rs)
Monthly Plan Charges Inter Circle ( in Rs)
Less than 25
75
150
More than 25
90
180
Customers in BSNL centrex group can also enjoy recently decalred free unlimited night calling offer also. The newly introduced tariff for BSNL Centrex (Landline Group Plan for Free Calling at any Time) facility will be implemented with effect from 01.06.2015 onwards across all telecom circles in India.
Dear readers, please share your views and opinions about BSNL Centrex facility via comments with us.