India's National Telecom backbone – Bharat Sanchar Nigam Limited (BSNL) has announced the revision of Prepaid WiFi Plans. As per the latest information, BSNL revised all existing Prepaid WiFi plans and launched one new 'Free BSNL WiFi Plan' on PAN India basis.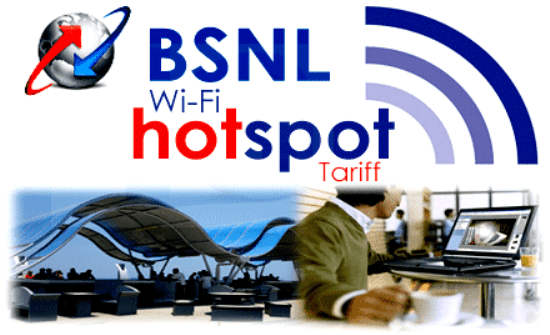 BSNL's Free WiFi plan allows customers to enjoy Free WiFi services for 20
Minutes per day for maximum 3 occasions in a particular month for the
same mobile number. The revisions will be made effective in all BSNL telecom circles with immediate effect.
BSNL Wifi Plans are affordable and will be extremely useful for people needing instant high speed connectivity. The plans are time based rather than usage based starting at Rs.20 for 30 minutes.
Revision of Prepaid Wi-Fi Plans At Major Ghats of Varanasi
Existing
Revised
Plan Name
Price (Inclusive of Service Tax)
WiFi Duration
Plan Name
Price (Inclusive of Service Tax)
WiFi Duration
BSNL WiFi 20
Rs 20
30 minutes
BSNL WiFi 30
Rs 30
30 minutes
BSNL WiFi 30
Rs 30
60 minutes
BSNL WiFi 50
Rs 50
60 minutes
BSNL WiFi 50
Rs 50
120 minutes
BSNL WiFi 90
Rs 90
120 minutes
BSNL WiFi 70
Rs 70
1 Day
BSNL WiFi 150
Rs 150
1 Day
NA
NA
NA
BSNL WiFi FREE
NIL
First 20 minutes in a day for maximum 3 occasions in a month for same mobile number
Introduction of new prepaid Wi-Fi Plan (Unlimited Download) for retail customers across India
| | | |
| --- | --- | --- |
| Plan Name | Price (Inclusive of Service Tax) | WiFi Duration |
| BSNL WiFi 30 | Rs 30 | 30 minutes |
| BSNL WiFi 50 | Rs 50 | 60 minutes |
| BSNL WiFi 90 | Rs 90 | 120 minutes |
| BSNL WiFi 150 | Rs 150 | 1 Day |
| BSNL WiFi FREE | NIL | First 20 minutes in a day for maximum 3 occasions in a month for same mobile number |