WhatsApp has finally launched the much awaited Voice Calling feature through its newest update, for all Android users. The Voice Calling feature enables the users to make VoIP calls using cellular data or WiFi connection at no added cost.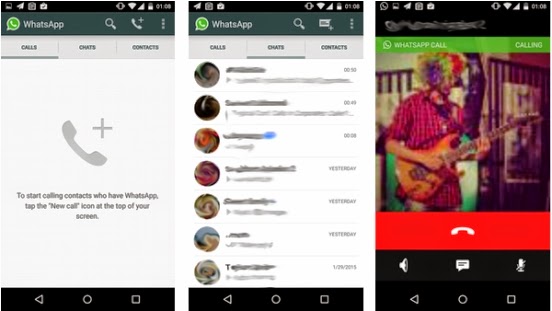 WhatsApp has been beta-testing the voice-calling feature for quite a while now. We had earlier seen, how WhatsApp was testing this calling feature in India. A Reddit user pradnesh07, even got the feature activated on his phone.
How to activate voice calling feature in Whatsapp?
Ensure you are on the latest version of Whatsapp
Highest version in the app store is 2.11.528 and on whatsapp website it is 2.11.531 also if you use third party app store Mobogenie you can get app version 2.12.5
After updating to the latest version you need to receive a call from another user who has the calling feature active on his phone. The phone call acts as an invitation.
After disconnecting the call you need to close and reopen WhatsApp and you will see the changed user interface.
The new UI adds a calls tab to the left of the chats app and adds a phone icon to the top right side of the chat window which can be clicked to initiate VoIP call.
According to Androidpolice.com, the feature gets activated after users receive a call on whatsapp from someone who already has it. After the call, Whatsapp is activated immediately after the app is closed and reopened again.
Once activated, there will be a 3-tab layout on the whatsapp homescreen showing calls, chats and contacts. The calls tab shows incoming, outgoing and missed calls with precise timings.
Dear readers, please share your views and opinions about this latest news via comments with us.