As per the information given by
Heavy Industries Minister Anant Geete, Five public sector undertakings (PSUs) will be closed down by the government, which has included some of the best known state run enterprises like Air India, MTNL and Hindustan Shipyard, in the list of 65 sick PSUs.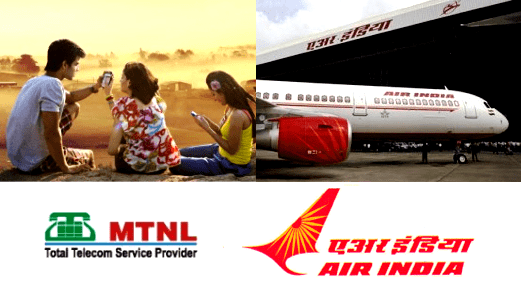 The minister also added that, the employees of these five units
will be offered a very good and attractive VRS package.

HMT was the market leader in manufacturing
watches and tractors while Air India Air India –
the third largest airline in India –

is the flag carrier airline of India owned by Air India Limited (AIL), a Government of India enterprise.
The Minister said there were 65 units in the list of sick PSUs as of March 31, 2014. The reasons for their sickness vary from enterprise to enterprise and included obsolete plants and machinery, heavy interest burden, resource crunch, surplus manpower and shortage of working capital.

Air India accumulated losses of Rs 5388 crore, Rs 5490 crore and Rs 7559 crore in years 2013-14, 2012-13 and 2011-12 respectively, according to the figures tabled in the House. MTNL showed profit of Rs 7820 crore in 13-14 but had incurred losses of Rs 5321 crore and Rs 4109 crore in the previous years.
The minister also said the concerned administrative ministries "prepare proposals for revival or otherwise of sick companies on case to case basis and obtain approval of the government."
Earlier, there were reports about Government's plan to shut down loss making PSUs. See it's details below:
Dear readers, please share your views about this latest news via comments with us.