AIR (All India Radio) offers Free SMS Alert Service of latest News Headlines to it's users across India.

The service was launched
in September 2013 by

the News Services Division of AIR. Users can receive All India Radio's news as SMS on their mobiles for free.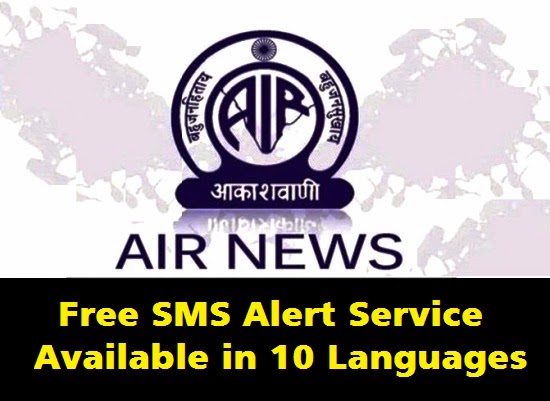 The SMS service aims at providing important news to the subscribers in their preferred language on their mobile phones. Free AIR News SMS Service is available in 10 languages, namely English, Hindi, Marathi, Sanskrit, Dogri, Nepali, Assamese, Gujarati, Malayalam and Tamil.
Under this service, important headlines of 2/3 major bulletins are sent daily free of cost through SMS in languages opted by the subscribers.
Process to subscribe to AIR news SMS
For subscribing or changing language preferences, existing as well as New subscribers can visit http://newsonair.nic.in/smsservice or send an SMS in the following format to 7738299899.
The SMS format is
AIR<space><language code>
For example, to get alerts in Malayalam, Type AIR ML and send it to 7738299899.
Once registered, a user will start receiving SMS within 48 hours of subscribing for the service. A user receives 2/3 SMS per day per language containing important headlines in languages she/he has opted for.
If she/he does not receive AIR news SMS within 48 hours after registering for the service, the user needs to check whether s/he has subscribed to DND (Do not Disturb) service and communicate the same through email to [email protected]. Users also can contact their service provider and request that the keywords pertaining to AIRNEWS SMS service be taken off the DND list.
Please note that some of the mobile phone handsets may not be compatible with receiving of SMS in regional languages. In general, mobile phones with Android 2.3 and above support unicode for Indian languages.
Language codes for SMS
E for English

H for Hindi

M for Marathi

D for Dogri

S for Sanskrit

N for Nepali

A for Assamese

G for Gujarati

ML for Malayalam

T for Tamil

UR for Urdu

OD for Odiya

BN for Bengali

KS for Kashmiri

AL for Arunachali

PN for Punjabi
Process to Unsubscribe to AIR news SMS
For Unsubscribing the news services type SMS AIR Newsstop and send it to 7738299899. This unsubscribes a user from receiving SMS in all languages.

If a user wants to unsubscribe from one or more languages out of the total selected languages, she/he has to unregister from all the languages (through the process mentioned above) and then re-register through SMS opting one language at a time. A user needs to send a separate SMS for each language.