KeralaTelecom.info opened a new Download section in our portal which allows BSNL customers and Retailers to download the latest and updated BSNL Tariff Cards Online.
The download section include updated versions of BSNL Tariff Cards / Info Cards of various BSNL Services.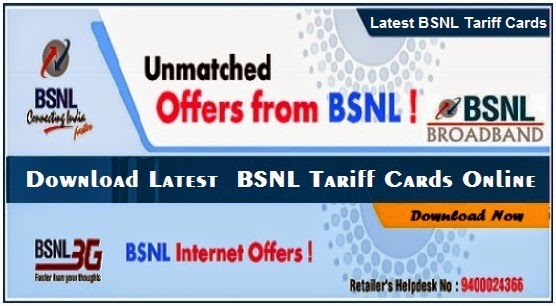 The Download Section can be accessed through the following Web Address:
or
Currently available BSNL Tariff Cards / Info Cards for Free Download are given below:

BSNL GSM Prepaid Mobile Tariff Cards
BSNL GSM Postpaid Mobile Tariff Cards
BSNL Mobile Postpaid Infocard / Tariff Card February 2015 : As on 06.02.2015 <<< Download >>>
BSNL Landline Broadband: ADSL / VDSL Broadband Tariff Cards
BSNL Fiber Broadband: FTTH (Fiber To The Home) Tariff Cards


BSNL Wireless Broadband: WiMax Tariff Cards
Dear readers, please share your suggestions and feedback via comments with us.