Telecom Regulatory Authority of India (TRAI) issued the 6th amendment to the Telecommunication Mobile Number Portability Regulation for full mobile number portability (MNP) on 25-02-2015. From May 3, 2015 onwards Mobile phone users will be able to retain their numbers when they relocate to any part of the country.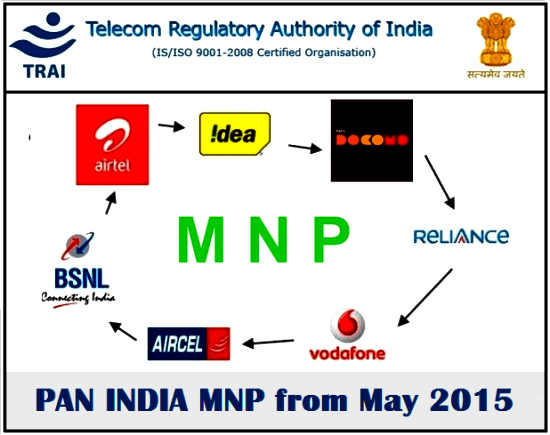 The DOT had notified all telecom operators on 3rd November 2014 to prepare their systems for the implementation of full Pan India number portability to be in place in six months from the date of issue of the notification which comes to 3rd May 2015.
At present, mobile subscribers can retain their current number only when they switch their service providers within the same service area. The Trai order issued on 25-02-2015 widens the scope for subscribers even when they relocate to another geographical area.
TRAI had also floated a consultation paper to the operators regarding the handling of issues pertaining to disconnection of postpaid numbers in case of the bill not being settled with the donor network before porting to the recipient network and regarding the lock-in period with the new operator before porting the number again. With the inputs received from the operators, TRAI has issued new guidelines with regards to these issues as well in the 6th amendment.
Under the revised regulations if a postpaid subscriber who is porting his number is a defaulter of the donor network and has not settled the final bill, the donor network has the right to give a disconnection notice to the subscriber through the recipient network in a span of 30 days from the due date of the final bill.
If the subscriber settles the bill with the donor network within 15 days from the date of issuance of notice, his services with the recipient network will continue uninterrupted, but in the case of non-settlement of dues post the 15 day period will lead to disconnection of services with the recipient network.
If the donor does not issue the disconnection notice within 60 days of the due date of the final bill, it is no longer entitled to do so.
The lock-in period between two consecutive number porting requests which was initially 90 days has now been reduced to 60 days.
Dear readers, please share your views about PAN India Mobile Number Portability via comments with us.