India's Largest Broadband Service provider Bharat Sanchar Nigam Limited (BSNL) provides Limited & Unlimited usage Broadband Internet Plans for Home / Business Customers at lowest fixed monthly charges with Free Landline Connection in Rural & Urban areas across India.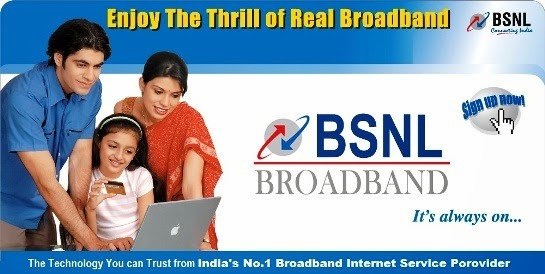 As compared to all other broadband service providers in India, the tariff plans offered by BSNL are very cheap and affordable to ordinary people. BSNL Landline Broadband offers High Speed Internet Connectivity from 2 Mbps to 24 Mbps as per the choice / requirement of the customer.
Latest BSNL Unlimited & Limited Broadband Tariff Plans: 2015
Now BSNL Customers can apply for BSNL New Broadband Connection through Online Portal with any of the above mentioned Unlimited / Limited Broadband plans.
Customers shall pay their telephone bills through BSNL Online Bill Payment Portal, which is the most easiest, secure and convenient way for payment of bills for Landline (includes Broadband), FTTH and WiMax Connections.
BSNL aready launched Online Bill Enquiry for Landline, Broadband, Fiber Broadband, Mobile & WiMax Services through BSNL Portal.


Dear readers, please share your views about these Broadband Offers from BSNL via comments.