The decision taken by Kerala State Electricity Board (KSEB) to allow Reliance Jio Infocomm Limited (RJIL) to use their electric posts to draw optical fibre cables has come in for strong criticism. The KSEB Officers Association (KSEBOA) and the KSEB Workers Association (KSEBWA) have demanded the government to cancel the controversial decision.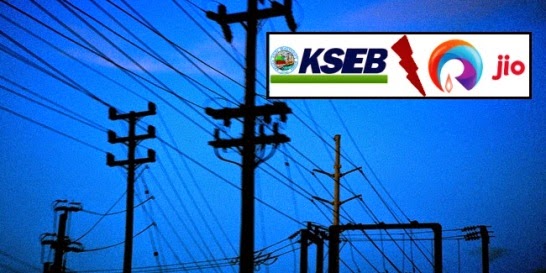 State run telecom operator, BSNL already submitted their request long before for
drawing its optical fibre cables on electric posts. But on
BSNL's request,
the KSEB had taken the stand that BSNL cables can be allowed only on posts that were not in use by TV cables.
But now the KSEB has unilaterally issued an order allowing RJIL this facility.
Following the controversy over stringing TV cables on the posts, a committee headed by the Chief Electrical Inspector had decided to allow only one cable per post. Even such cables are proving a hindrance for repairs on power distribution lines. Allowing more cables would merely aggravate this problem, KSEBOA general secretary Suresh Kumar M G and KSEBWA general secretary Lakshmanan V said in a joint statement.
The two associations alleged that the decision would throw haywire the KSEB's own IT plans and raise questions regarding electrical safety. Both organisations are also planning to hold protests outside main offices of the KSEB on February 13.
Dear readers, please share your views about the decision of KSEB in this matter via comments with us.